PORT PC: 2022 was the Year of Heat Pumps in Poland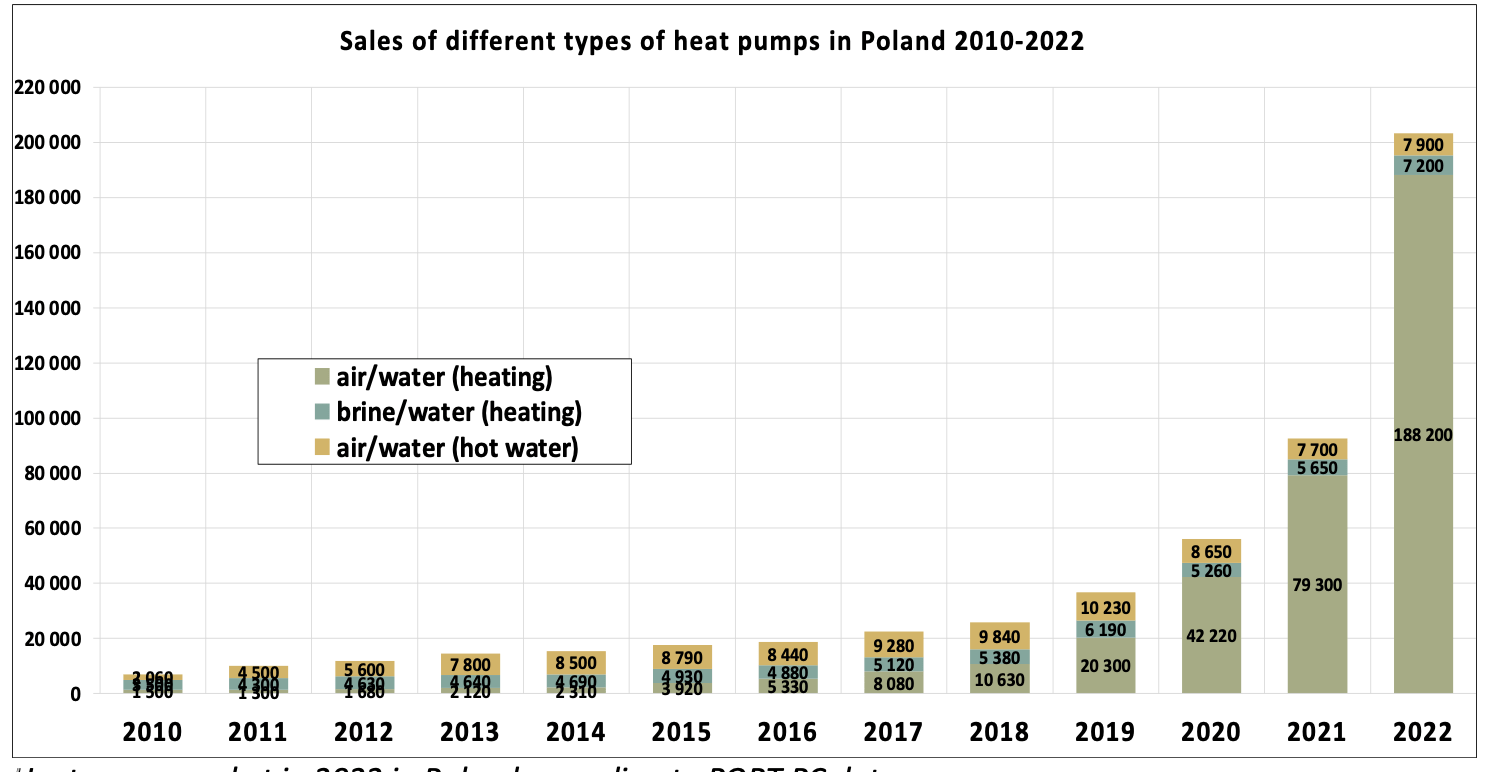 In short:
– The overall heat pump market in 2022 grew by 120%, and heat pumps for building heating by 130%. In 2022, almost one in three units in the total number of space heating units sold in Poland was a heat pump.
– In 2022, the number of air-to-water heat pumps sold in Poland increased by 137% compared to 2021, reaching 188,200 units. This represents a more than 100-fold increase in the air-to-water heat pump market over the past 10 years in Poland.
– The number of ground source heat pumps sold also increased by 28% and amounted to 7.2 thousand units.
– In December 2022, the share of applications for replacing heat sources with heat pumps in the Clean Air Program reached 63%.
– Russia's invasion of Ukraine has accelerated Europe's energy transition
and plans to move away from natural gas in heating buildings.


2022: An intense year of growth for the heat pump market in Poland
In 2022, compared to 2021, sales of heat pumps in Poland increased by 120% overall. In terms of equipment designed for central water heating, the increase reached 130%. The number of air-to-water heat pumps sold increased even more – by 137%. It is also worth mentioning that the market for air-to-water heat pumps in Poland has grown more than 100-fold over the past 10 years. For the fifth year in a row, the Polish market for air-to-water heat pumps had sales dynamics of about 100% year-on-year, and in the last two years this was the highest sales dynamics for heat pumps in Europe.
Sales of ground source heat pumps also increased significantly – by 28% for brine/water type units. Air-to-water heat pumps for domestic hot water preparation recorded a sales increase of about 2% only.
In terms of numbers, the figures are as follows: in 2022, a total of more than 200,000 units were sold, including 188,200 units for air-to-water devices and about 7,200 ground source heat pumps and 7,900 heat pumps for domestic hot water. This means that the share of heat pumps in the total number of heating units sold in the Polish market in 2022 (taking into account its 10% decrease compared to 2021) could be close to 30%, and taking into account the sold air conditioners with heating function it was already almost every second heating unit sold.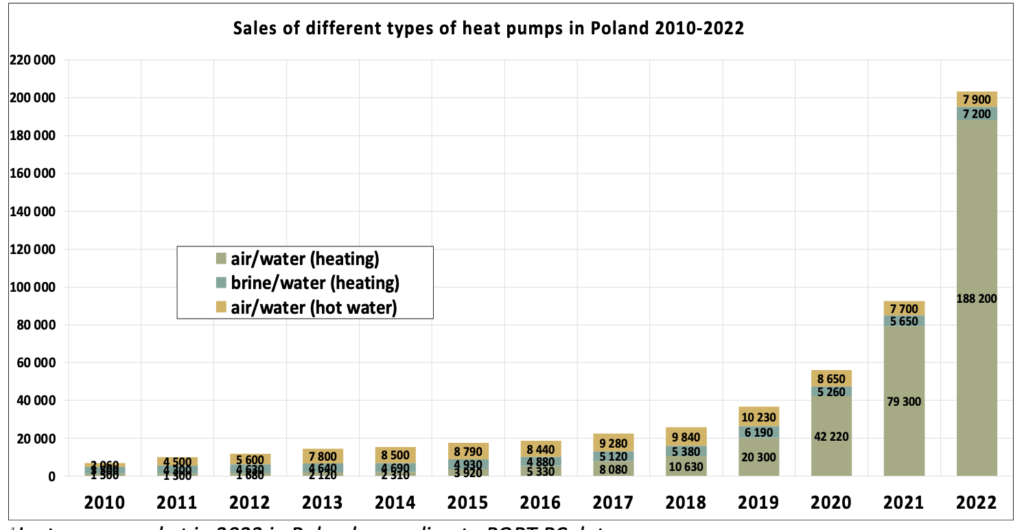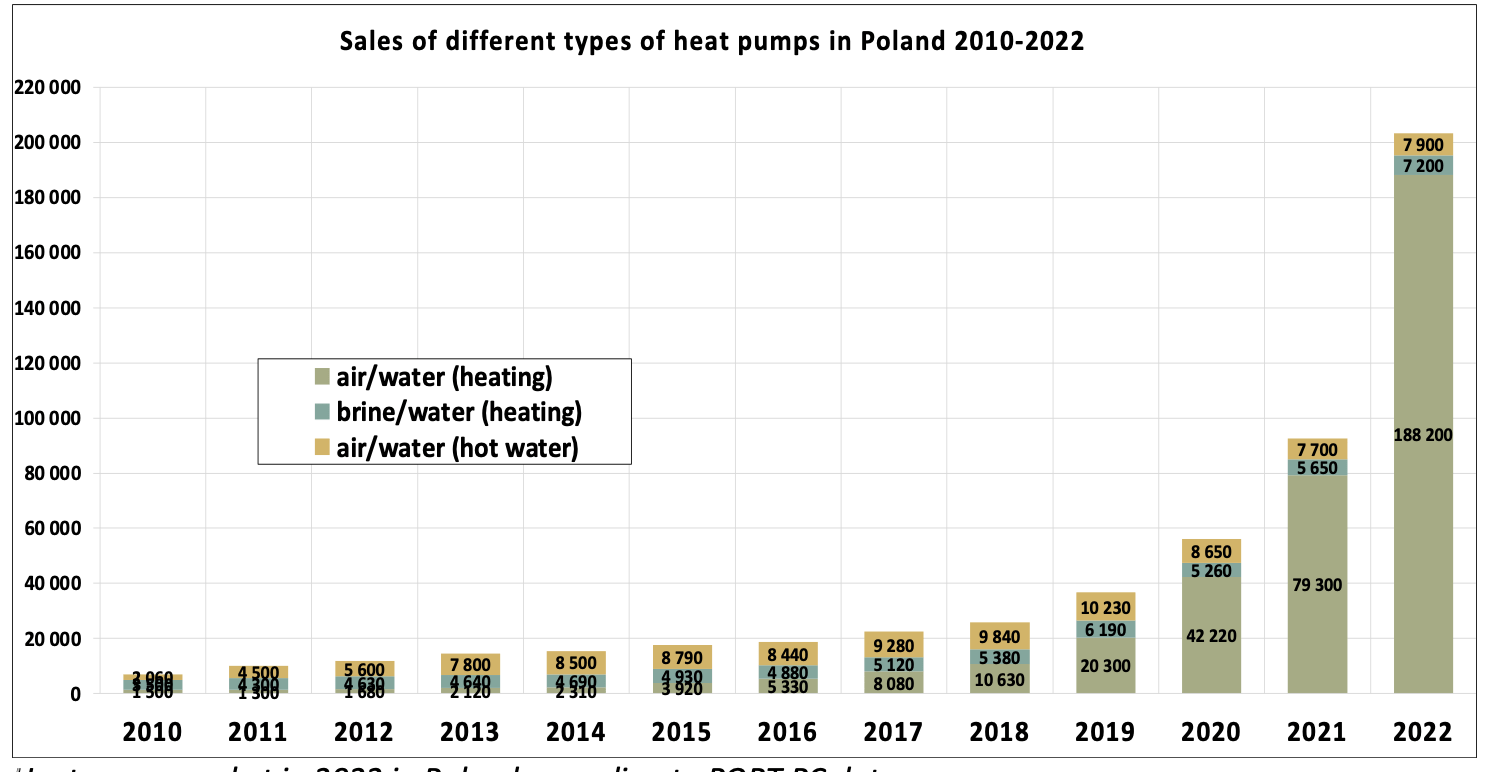 Heat pump market in 2022 in Poland according to PORT PC data
Massive growth in the heat pump market in Europe in 2022
Huge growth in heat pump sales can be seen in many European Union countries. In Germany, for example, there was a 53% increase in the market in 2022, with about 236,000 heat pumps sold there for heating buildings. It is worth mentioning here that the German government has assumed that in 2024 sales of heat pumps are expected to reach more than 500 thousand units (an increase of more than 3 times in 3 years). As of January 1, 2024, all newly installed heating systems will have to be powered by at least 65% RES energy. This is expected to cause an even greater increase in the number of heat pump installations in the following years. According to government plans, up to 5-6 million electric heat pumps are expected to be installed in buildings in Germany by 2030. Norway, the country with the coldest climate in Europe, where about two-thirds of households now have a heat pump, has seen a 25% increase in their sales. Almost all new heating systems in 2022 are powered by heat pumps. A very mature market for heat pumps is Finland, which has seen extraordinary growth in sales of these devices in recent years. The heat pump market there grew by 50% in 2022. Switzerland has been installing heat pumps for many decades, and despite the country's very mature heat pump market, there was a 23% increase in 2022. As many as 2/3 of all heating systems sold in Switzerland in 2022 were heat pumps. In Belgium, – just like in Poland, the heat pump market doubled in 2022.
France currently has the largest heat pump market in Europe, growing by 30% in 2022.
Our southern neighbors are seeing quite a bit of market change: in Slovakia, the heat pump market doubled in 2022, and inCzech Republic it grew by 50%.
What reinforced the popularity of heat pumps in Poland in 2022?
The main factors contributing to such significant increases in sales of air-to-water heat pumps in Poland are their attractiveness in terms of use, including high operating comfort and space cooling capabilities, more favorable heating costs compared to other heat sources, and growing confidence in this technology, both among users and installers. Demand is also significantly influenced by consumer interest in zero-emission heating systems, for which government financial support can be obtained, and by the increasing environmental awareness of Poles. After all, a heat pump installed in a building does not cause any so-called "low emission" of pollutants into the air.
What is particularly important in light of the need to ensure the energy security of Poles is that all the energy transferred by the heat pump is extracted in Poland. Heat pumps use 70-80% renewable energy sources (RES) extracted from the ground, water or air in the form of heat. The remainder of the energy needed is the electricity required to operate the heat pump. In 2022, significant increases in the prices of energy carriers and fuels, which reached up to more than 100% (year-on-year), undoubtedly contributed to the marked increase in interest in heat pumps. The Retrofit Tax Relief and changes to the Clean Air Program, increasing financial support for heat pumps, were also important. We observed a significant increase in the share of heat pump applications in this program, especially at a time when, as part of the May 18, 2022 REPowerEU package as an energy response to Russia's invasion of Ukraine, the European Commission announced, among other things, plans to move rapidly away from the use of fossil fuels in buildings.
As of December 2022, the share of heat pumps in the Clean Air Program was as high as 63% of the total number of applications for heat source replacement, while in January 2022 it was only 28%. It is also worth mentioning the increased interest in producing electricity for one's own needs, as a part of the rapidly developing civic energy sector, especially through the installation of photovoltaic systems on residential buildings roofs. This is supported both by the Clean Air Program and the My Electricity Program, which promotes the development of prosumer photovoltaic installations based on a new energy billing system called net-billing. According to PORT PC, it is less favorable than the previous net-metering system, but still provides greater cost-effectiveness than direct buying electricity from the grid.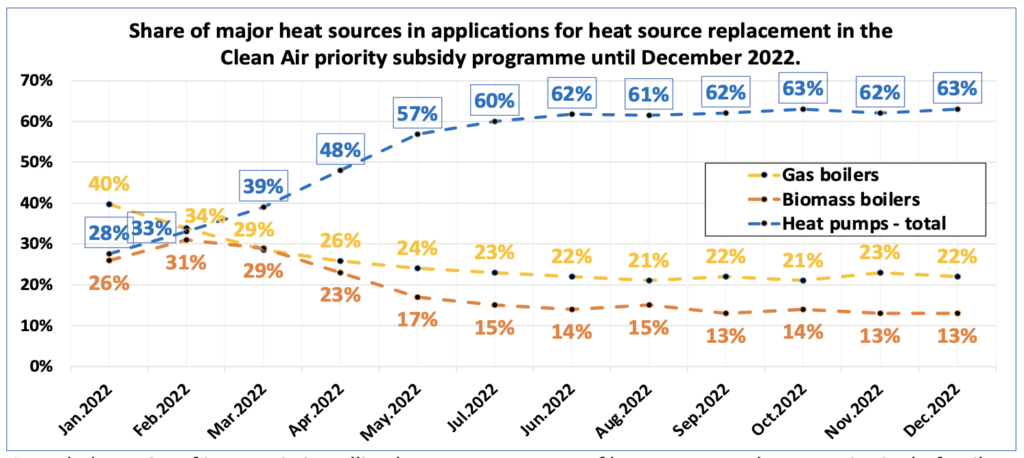 Growth dynamics of interest in installing heat pumps as part of heat source replacement in single-family buildings in Poland by month in 2022. – Based on applications submitted to the Clean Air Program (source: PORT PC according to data from the National Fund for Environmental Protection and Water Management).
An important program that subsidizes heat pumps in new single-family buildings with increased energy standards is the My Heat Priority Program launched in April 2022 by the National Environmental Protection and Water Management Fund. In addition to subsidizing heat pumps at a level of up to 30%, it indirectly allows for more favorable loan terms for the entire building, due to the fulfillment of the taxonomy of sustainable financing (as of 2023, the requirement for subsidies in the My Heat Program is to achieve a primary non-renewable energy index EP<55 kWh/(m2year)).
According to current information from the National Environmental Protection and Water Management Fund, the program has attracted considerable interest from beneficiaries. Since its launchfrom the end of April 2022 to the end of January 2023, more than 15,000 applications have been submitted for subsidies for the installation of heat pumps in new single-family buildings in the "green" energy standard.
The Direction – further accelerated development
Heat pumps have been identified as a key decarbonization solution for heating buildings in the main strategies of the "European Green Deal," namely the EU's Energy Sector Integration Strategy (July 2020) and the sector building strategy, the so-called Renovation Wave. Both strategies coherently outline what the energy transition model in the European Union will be. It consists of producing electricity mainly from RES and combining energy sectors with the principle of "energy efficiency first," i.e. primarily efficient electrification of transportation, individual heating and district heating.
According to information from the Ember think tank, compiled on the basis of updated National Energy and Climate Plans (NECP prepared by EU member states), in 2030 the share of so-called clean electricity could reach 83% on average, and the average share of RES in electricity production in the energy mix as high as 63%. Already, the vast majority of EU countries have announced the full decarbonization of electricity in their energy mixes between 2035 and 2040. This means, among other things, the possibility of quickly realizing the full decarbonization of transferred heat by electric heat pumps or electric transport.
Of key importance in showing the prospects for the development of the heat pump market in Europe in the coming years is the document issued on May 18, 2021 by the International Energy Agency (IEA), the so-called "Net Zero by 2050" roadmap, and the cross-sectional analysis "The Future of Heat Pumps" issued on November 28, 2022. This is also confirmed by the document, released in October 2022, "World Energy Outlook 2022" (WEO). According to these studies, electric heat pumps are expected to meet half of global heat demand by 2045 and provide nearly two-thirds of heat in developed countries (OECD) in 2050.The total number of installed heat pumps should therefore increase from 180 million units in 2020 to 600 million units in 2030 (almost quadrupling), and 10-fold to 1.8 billion units in 2050. At the same time, the International Energy Agency (IEA) is calling on all developed countries to end the sale of stand-alone gas, oil and coal boilers as early as 2025. According to the European Commission's REPowerEU package, such a plan is to be implemented in 2029 in all European Union countries, by changing eco-design regulations for heating appliances. Without waiting for changes in regulations in the European Union, more than a dozen EU countries have already announced bans on the use of fossil fuel boilers in new or existing residential buildings in the coming years.
Outlook for 2023 in Poland
As predicted by PORT PC, further significant increases in sales of air-to-water heat pumps in Poland should be expected in 2023. In the optimistic variant, it could be about 40-50% compared to 2022 (year-on-year), and by about 30-40% for ground source heat pumps.
The main drivers of heat pump sales will be the attractiveness of heating costs, as well as support programs using this technology in the coming years and European plans to move away from the use of fossil fuels in buildings. PORT PC believes there is a need for a new program to replace existing fossil fuel boilers, as well as the urgent signing of an agreement with the Polish heat pump industry to support measures in the spirit of the zero net worth legislation being prepared by the European Commission for the EU industry.
On the other hand, a shortage of qualified heat pump installers and the issue of heat pump quality and installation may prove to be a significant barrier to further dissemination of the technology. This could be a bottleneck for further correct market development, and intensive efforts are therefore necessary in this regard. At the end of 2022 PORT PC entered the competition of the Ministry of Economy and Labor for the establishment of an Industry Skill Center for heat pumps. In the coming years, it is planned to establish nationwide standards for the training, as well as professional retraining of heat pump installers. It is planned that this will be combined with the implementation of the PORT PC Heat Pump Installer Academy, i.e. it is expected to ensure the establishment of a heat pump installer training system in Poland, integrated with the training carried out by manufacturers and distributors.
In 2023 PORT PC intends to intensively support the HP Keymark and EHPA-Q quality labels, which are intended to protect consumers from purchasing heat pumps without verified technical and performance parameters. According to the current requirements of the eco-design regulations, heat pump data provided by manufacturers do not have to be inspected by external accredited laboratories.
However, when selecting an appliance, it is worth considering those heat pumps whose parameters (including those that also affect operating costs) have been confirmed by external accredited testing laboratories. The Heat Pump Keymark (HP Keymark) or EHPA-Q, obtained on this basis, guarantees that all relevant measured data of heat pumps such as noise level, efficiency or energy class are real and reliable for consumers. The process of awarding the EHPA-Q mark also additionally confirms the reliability of the national heat pump supplier in terms of the correctness of technical documentation in Polish, warranty conditions, service and availability of spare parts for at least 10 years. This is a certification scheme established in Europe, but granted for each country separately and is only valid in the country where the product has been certified.
In Poland, the PORT PC Quality Mark Committee, approved by the European Heat Pump Association (EHPA), is responsible for it. It is worth noting the complementarity of these two heat pump quality labels, as the EHPA Q label can also be awarded on the basis of the HP Keymark.
—
This article was written by PORT PC
ABOUT PORT PC
The Polish Organization of Heat Pump Technology Development (PORT PC) is a trade association which aims to strengthen the image of heat pump technology by establishing a quality management system, developing and implementing technical standards and certifying and carrying out professional technical advice on the European market at a level which is recognised throughout Europe.
PORT PC has been a member of the European Heat Pump Association (EHPA) based in Brussels since 2012. In addition, it cooperates with European industry organisations, including the German BWP and the German VDI engineering association. PORT PC is also a founding member of the POBE Energy Efficiency Industry Alliance (as of 2018), which brings together twelve industry associations focused on building energy efficiency
More information about PORT PC at: www.portpc.pl