About
The Heat Pump KEYMARK is a voluntary certification mark that supports the quality and performance of heat pumps on the European market. It can apply to all heat pumps, combination heat pumps and hot water heaters. The certification is based on independent third-party testing and is compliant with efficiency requirements as set by Ecodesign Lot 1, 2 and 10.
The scheme is owned by CEN, the European Committee for Standardization and its secretariat is coordinated by EHPA. The certificate is granted by independent Certification Bodies and the testing is carried out by registered Test Centres.
The Heat Pump KEYMARK offers a single certificate for a single European market, as it is recognised in several member states, while the number of participating countries is constantly increasing. The quality mark can be used for access to public subsidies in most European countries while creating trust in the marketplace through a transparent and strong company image. It is mutually accepted by all the empowered Certification Bodies and has no minimum requirements.
For more information about the scheme, you can visit the heatpump.keymark.eu website.
Why choose Heat Pump KEYMARK?
What are the benefits of being KEYMARK certified?
✔️ Certified product quality

✔️ Compliance with EU standards and Ecodesign

✔️ Easy access to the European market

✔️ Increased consumer confidence

✔️ Increased sales opportunities

✔️ Reduced costs for testing, inspection and certification
Heat Pump KEYMARK recognition in Europe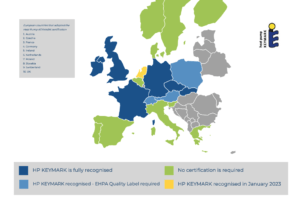 How to apply
As a manufacturer or distributor, you can obtain a Heat Pump KEYMARK mark by submitting your application to one of the empowered Certification Bodies of your preference. They will provide you with the required information on the testing and inspection procedures and costs. 
If you find yourself interested in obtaining the Heat Pump KEYMARK certificate, the procedure involves the following steps: 
1. You have the possibility to submit your

application

to the

empowered Certification Body

of your choice.

 

2. The certification bodies will in turn provide you with the required information related to the

testing

,

inspection,

assessment procedures

and

costs

.

 

3. Once the application process has been completed, a

factory inspection

as well as a

product sampling

will be carried out by an authorised inspector.

 

4. As a manufacturer, you have the possibility to choose your institute of preference from a list containing all the ones recognised by the Certification Body. The institute will provide the

testing

of the sampled units.

 

5. A

conformity assessment

of all the reports and documents will be carried out by the Certification Body.

 
The Heat Pump KEYMARK is open to new Certification Bodies who wish to become empowered by the scheme. You can send your application for empowerment sending an application form to the KEYMARK Management Organisation – KMO (info@keymark.eu).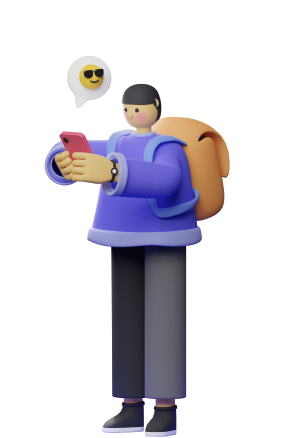 Contact us
Heat Pump KEYMARK Secretariat
European Heat Pump Association (EHPA) Rue d'Arlon 63 – 67 Brussels, Belgium
+32 2 4001017
keymark@ehpa.org
Contact us to know more or give us your feedback