What does the Swedish EU presidency mean for the energy transition?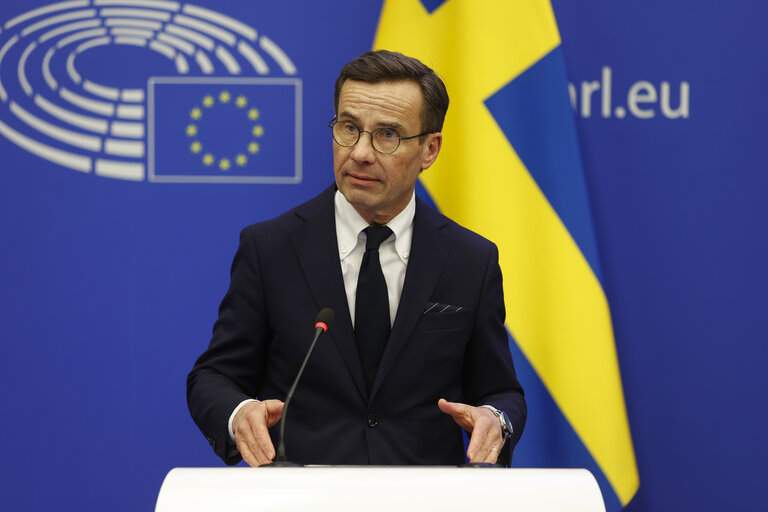 Sweden's Presidency of the Council of the European Union in the first half of 2023 will see intense legislative activity on climate and energy policies. The Scandinavian nation, which takes over from Czechia and will be followed by Spain, will also have to address the enduring war in Ukraine and rising inflation in Europe. Its presidency comes just over a year before the next European elections.
During his introductory speech in Strasbourg, Swedish Prime Minister Ulf Kristersson vowed to make the European Union "greener, safer and freer". His words were echoed by Minister for Climate and Environment, Romina Pourmokhtari, and Minister for Energy, Business and Industry, Ebba Busch, in their respective programme presentations at the Parliamentary Committee on Environment (ENVI) and Parliamentary Committee on Industry, Research and Energy (ITRE). In short, they all emphasised that Stockholm would continue to promote the European Green Deal, while also boosting competitiveness, jobs, food production, health, and welfare.
Sweden has long advocated for ambitious climate goals in order to make the EU's economy more sustainable, pledging to achieve climate neutrality by 2045, five years ahead of the EU-wide target.
Therefore, what we should expect to happen under the Swedish Presidency regarding energy and environment?
– The Swedish Presidency will focus on continuing the informal trialogues with the European Parliament on the proposals for a revision of the Renewable Energy Directive (RED) and the Energy Efficiency Directive (EED). Negotiations for the Energy Performance of Buildings Directive (EPBD) will also carry on, as MEPs will vote on the Parliament's position in early 2023. 
EHPA's take: EHPA supports the vision of a decarbonised building stock, in line with a 100% emission free heating and cooling sector by 2050. EHPA is calling for a 45% overall renewables target and a binding target for renewables in heating and cooling in buildings of 2.3% annual average.
– Developments in the energy markets and relative measures will be a hot topic. A potential reform of the EU's electricity market design is in the Swedish programme and a consultation has just been launched by the Commission. Plans for a regulation to reduce methane emissions and for a decarbonised gas market package are also on the agenda.
EHPA's take: Protecting citizens from energy price spikes and making electricity bills affordable for all are pivotal, and will help ensure that clean heat becomes the most attractive choice for consumers, benefitting the environment and society at large.
– Sweden intends to give special attention to regulations on air pollutants, keeping a close eye on the revision of the Industrial Emissions Directive and Ambient Air Quality Directive as well as on the negotiations on the F-gases and Ozone Regulations.
EHPA's take: Gas boilers cause air pollution, which is avoided by switching to heat pumps. Heat pumps also use refrigerants, a type of fluorinated gas (F-gas), that absorb, transport and release heat. These F-gases can harm the climate, so the heat pump sector is increasingly turning to alternatives in line with EU requirements. However the timetable needs to be realistic and not jeopardise the European Commission's REPowerEU targets, which require around 20 million new heat pumps to be installed in the EU by 2026 and nearly 60 million by 2030. 
EHPA's take: The Regulation on Ecodesign for Sustainable Products aims to set standards to make products on the EU market greener, more durable and easier to repair, recycle or upgrade. Heat pumps are a good example of this type of product. We endorse a vision that sets eco-design standards, sustainability and information requirements to be met by manufacturers, ensuring that unsustainable technologies and business models will be kept out of the European market to foster continuous innovation.
EHPA will closely monitor the policy developments under the Swedish presidency to ensure that heat pumps continue to play a leading role in the clean energy transition, towards an energy independent and fossil-free Europe by 2050.
More on the Swedish presidency of the EU Council
More on the EU Heat Pump Accelerator
Image Credit: © European Union 2023 – Source : EP