Net Zero? It's all about electrification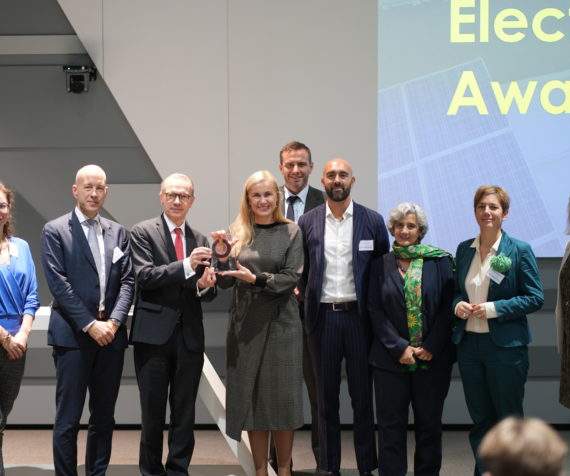 Today the Electrification Alliance** unveiled a new 'Electrification Manifesto' urging the European Commission to fast-track the electrification of Europe. The Manifesto calls for a dedicated Electrification Action Plan in the first 100 days of the incoming European Commission's mandate. At the launch event, European Commissioner for Energy Kadri Simson was named the winner of the inaugural 'European Electrification Award'. The Commissioner was recognised for her unwavering commitment to advancing the EU Green Deal and promoting the direct, smart electrification of Europe's energy system with homegrown, clean electricity.

Today less than 25% of all energy consumed in Europe is electricity. The remaining energy Europeans use to heat their houses, fuel their vehicles and power their factories largely comes from fossil fuels. This needs to change. To achieve climate neutrality by 2050, up to three-quarters of final energy consumption in Europe will be electrified directly or indirectly. To align with the Green Deal All this electricity will need to come from clean energy sources by then.

But the EU's electrification efforts are falling short. To advance direct electrification, the EU must:
>Accelerate the build-out of renewables
>At least double today's investments in the optimisation and expansion of electricity grids
>Support a rapid uptake of electrified end-user applications like electric cars and trucks in transport and heat pumps in heating

Yet, none of this will can be achieved without regulation.

New Electrification Manifesto unveiled

Today the Electrification Alliance** presented a new Manifesto outlining key policies to accelerate the uptake of direct, smart electrification in Europe. The Manifesto calls for a dedicated Electrification Action Plan in the first 100 days of the incoming European Commission's mandate.

This Electrification Action Plan should set a target of 35% electrification of final energy use across the EU by 2030. It should ensure electrification becomes an integral element of Member States' National Energy and Climate Plans (NECPs).

The Manifesto also calls on the incoming Commission to ramp up investments in electricity grids. Europe needs to overhaul its energy infrastructure planning– starting with an immediate reform of the TEN-E Regulation and Ten-Year Network Development Plan processes for both transmission and distribution system operators. Crucially, grid planning needs better coordination and more political oversight to ensure it delivers on net zero.

Other concrete policy actions in the Manifesto include programmes to attract skilled workers, the prioritisation of direct, smart electrification in the EU's funding and financing programmes and the empowerment of end-users to utilise the full potential of demand side management.

Read the full Manifesto here.

Commissioner Kadri Simson receives European Electrification Award

The Electrification Alliance also presented its inaugural 'European Electrification Award' to Kadri Simson, European Commissioner for Energy, for her outstanding contributions to accelerate the direct electrification of Europe's economy.

Commissioner Simson said:
"Electrification will play a crucial role in the next decades to deliver an efficient, secure, decarbonised and integrated energy system. Electricity will become our main energy carrier by 2040, and we need to ensure that both the market conditions and infrastructure will push this transition forward. I look forward to continuing our good cooperation with the power sector to build a strong EU sector where electricity is always produced in the cheapest and cleanest possible way, and delivered to where it is needed."

Thomas Nowak, Secretary General of the European Heat Pump Association, said: "Boosting electrification is crucial to decarbonising heating and cooling through heat pumps. Commissioner Simson has carefully led the EU's energy agenda at a time of rapid change and geopolitical uncertainty. The next step? Ensure electricity prices are no more than double the price of gas for a greener and more resilient Europe."

Over the last years, Commissioner Simson has emphasised the strategic importance of domestically produced renewables and direct electrification on countless occasions. Throughout one of the most severe energy crises in Europe's history, she has defended the European Green Deal as a means to strengthen Europe's energy security and ensure affordable energy prices for Europe's households and industry.

She has been instrumental in shaping key policies to drive direct electrification, including: REPowerEU, the EU Solar Strategy, the EU Offshore Renewable Energy Strategy, the Energy Performance of Buildings Directive, the EU Electricity Market Design reform, the EU Strategy for Energy System Integration, as well as the Critical Raw Materials Act and the Net Zero Industry Act as part of the EU Green Deal Industrial Plan.

The award ceremony took place at the factory site of Audi Brussels. Since 2018, only 100% electric cars are being manufactured at the certified CO₂-neutral plant. To achieve net CO₂-neutrality, Audi Brussels only uses green energy and even produces renewable electricity onsite: 107,000 m² of solar cells on the factory's roofs generate around 9,000 megawatt hours of electricity annually. Any emissions that cannot yet be avoided (around 5%) are offset by environmental projects to achieve carbon neutrality. Furthermore, Audi Brussels takes part in Audi's environmental program Mission:Zero to reduce its ecological footprint in Logistics and Production. Currently, Audi is examining whether wind energy projects could be realized on the factory premises.

You can download photos of the award ceremony here.
**About the Electrification Alliance: The European Association of Electrical Contractors, Avere, Eurelectric, the European Climate Foundation, the European Copper Institute, the European Heat Pump Association, the Renewable Grid Initiative, smartEN – Smart Energy Europe, SolarPower Europe and WindEurope have joined forces to launch the Electrification Alliance. Together they call on European policymakers and businesses to recognise renewable and clean electricity as the key energy carrier for an efficient and decarbonised European future.**
Cover Photo: WindEurope