Meet the winners of the 2022 Heat Pump Awards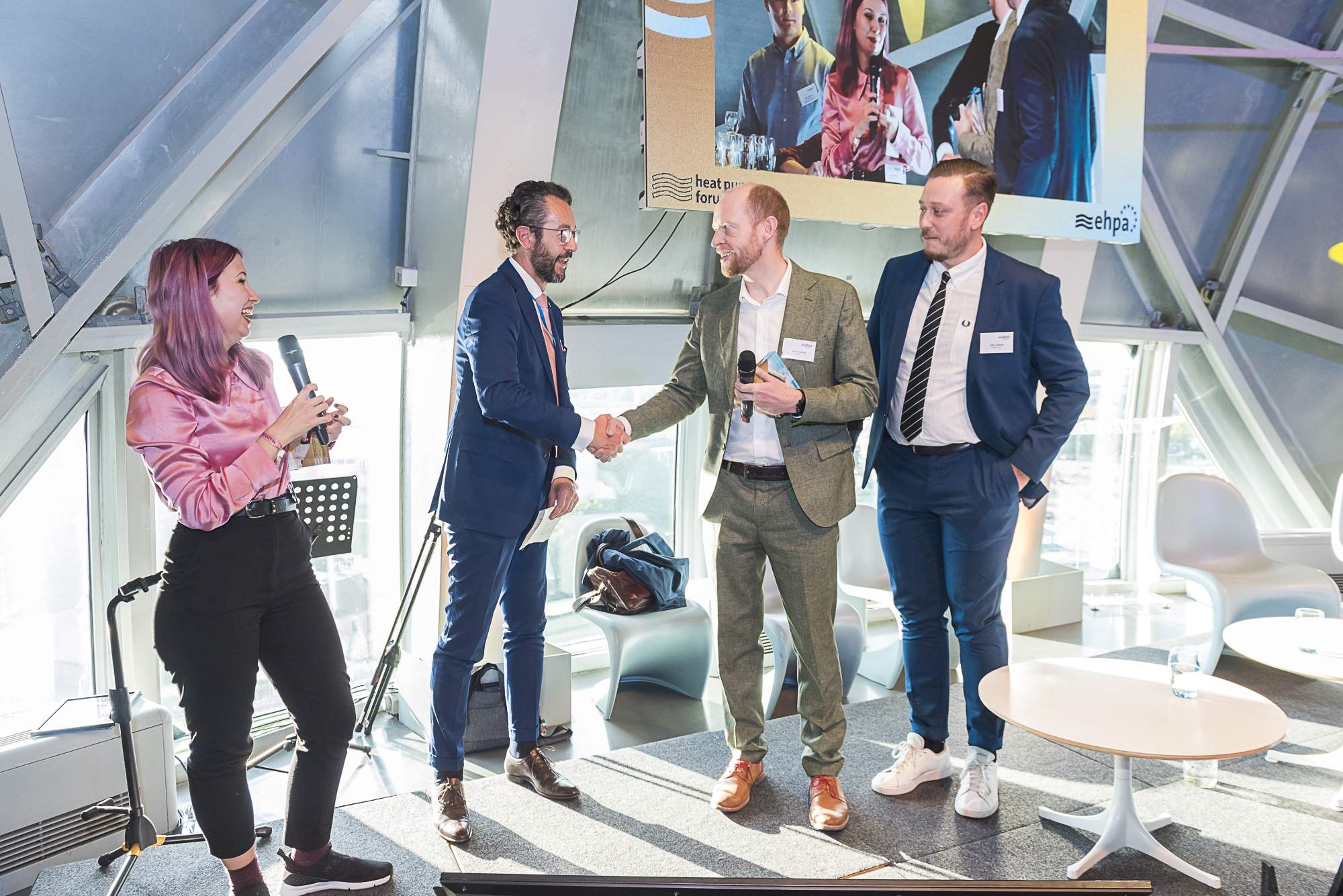 The aim is to reward the most outstanding heat pump projects on a local, residential, and industrial level.
On 28 September the 2022 Heat Pump Award ceremony took place at the Atomium, Brussels, as part of the annual forum organised by the European Heat Pump Association.
On this special occasion we awarded a prize to winning projects in five categories: Heat Pump City of the Year, Decarbuilding – which celebrates the of heat pumps in buildings, DecarbIndustry – for industrial use of heat pumps, Lighthouse Heat Pump – which rewards innovation and creativity – and the People's Choice award.
The core objective of the Heat Pump Awards, which were founded by the European Heat Pump Association, is to award the most outstanding heat pump projects on local, residential, and industrial levels.
In this, the 12th edition of the awards, we received 51 applications from all around the world, which collected 51 different visions on how heat pumps are a valuable source in the decarbonisation path in Europe.
We would like to thank again all the participants, the jury of experts that evaluated the submissions and the public that voted for their favourite project.
The awarded projects for the 2022 edition are:
Heat Pump City of the Year Award:'Castle Park Water Source Heat Pump Project"'
Introduced by Enrique Vilatmitjana Managing Director at Panasonic Heating & Cooling Solutions Europe, and accepted via video by Sarah Hatch, Marketing Manager (Business Unit ‑ North & Scotland), Vital Energi.
The project is believed to be the largest single water source heat pump installation in the UK. Contributing to making Bristol Heat Network an overall lower carbon system, the initiative demonstrates that large scale heat pumps can be plugged into existing city-wide schemes.
Scott Lutton, Vital Energi's Operations Director – North & Scotland said, "We'd like to congratulate Bristol City Council and Goram Homes for their fantastic achievement. This project demonstrates that WSHPs can plug into existing networks and opens up the possibility of harnessing the Gigawatts of ambient heat in the UK's rivers, which will play a large part in meeting our net zero targets. Heat pumps can lower energy bills and deliver strong carbon savings and Castle Park is one of the first major WSHP projects in the UK, so we're delighted that it has gained recognition at the European level and hope it will inspire other similar projects going forwards."
Decarbuilding Award:'Postipuisto, New circular economy Solution"
Introduced by Luca Camuncoli, Head of Press and Communication, EDF and accepted by Martti Kukkola, Chief Business Officer, Oilon and Antti Leskinen, Helen.
This project aims to answer the question of sustainable energy use in buildings in Finland. Located in the Postipuisto district in Helsinki, Finland, the building, produces most of the heating and cooling it requires thanks to the ChillHeat heat pump. The heat pump utilises energy from different heat sources: geothermal, wastewater heat recovery and condensates from grocery stores. This heat pump solution is integrated into the district heating system providing a third of the building's annual energy demand.
"What a memorable moment last week in Brussels at the iconic Atomium! Oilon and Helen had the honour to receive the EHPA Heat Pump of the Year award in the DecarBuilding category for our joint project in Helsinki: a solution where not a single joule of energy goes unutilized. Many different means are needed on the road to carbon neutrality and energy independence, among which high-capacity heat pumps are some of the best. " Said Martti Kukkola, Oilon and Anti Leskinnen, Helen.
Decarbindustry Award: 'The world's most environmentally friendly furniture factory'
Introduced by Kristian Strand, President Commercial Compressors, Danfoss and accepted by Jan Halvarsson, TCO, Enrad and Andreas Bäckäng, VD/CEO, Enrad
This project aims at making The Plus factory in Magnor, Norway, into the world's most environmentally friendly furniture factory. Heat pumps and chillers using the refrigerant R290 are used to produce process heating and cooling for the production line. Comfort heating and cooling is provided to the building through waste heat combined with free heating and cooling from geothermal wells.
"We are very honoured to receive this award and to receive recognition for our work with natural refrigerants. We started our journey in 2008 and we will continue to fight for a better climate for many, many years to come" Said Andreas Bäckäng, Enrad
Lighthouse heat pump Award
' GEOLO: the long lifecycle of property begins underground'
Introduced by Johannes Brugmann, Vice-president, Bosch Thermotechnik GmbH and accepted by Niko Pihlanen, Project Manager, EnerSys, Jaakko Jokkitalo, Key Account Director, Rototec and Janne Vanhanen, Raksystems Climate Solutions.
The Geolo energy solution aims at reshaping the entire construction solution. Designed as a standalone solution, movable from construction site to site, it utilises carbon neutral, renewable geothermal energy with revolutionary heat pump technology innovation that enables more sustainable construction.
 

"Our Geolo journey has just began and for us it is a great honour to receive this award. Energy crisis and climate change are hitting us heavily. We need to do everything that we can to create more energy efficiency solutions to stop the global warming. Today we have a unique movable Geolo-solution in our hands, it gives us CO2-emission free heating and cooling during construction period. Geolo also saves a lot of external energy and creates better quality to the construction process. As the slogan goes: GEOLO – the long lifecycle of property begins underground. Thank you very much to EHPA for noticing our Geolo- solution by this great award!" tells Janne Vanhanen, Raksystems Climate Solutions, on behalf of the whole Geolo team.
People's Choice Award: the most popular heat pump project 'Trane Thermal System – Broomfield College, Derby UK'
Introduced online by Livio Calabrese, Sales and Marketing Director, Frascold and accepted by Louis Rompre, Portfolio Leader, Trane Technologies.
Broomfield Hall campus is a public college that provides further education in agriculture, equine and horticulture education. A part of the UK government's Public Sector Decarbonisation Scheme (PSDS), this campus was awarded funds to carry out several decarbonisation activities including replacing the existing gas-fired boilers with heat pumps. This project was highlighted in the UK government's decarbonisation January 2022 summary report.
"This is a perfect case of a project where heat pumps can replace gas boilers and even better, it is a solution we have replicated hundreds of times over the last years. Our customers prove us every day that our solutions are effective, efficient and can satisfied their heating needs all over Europe." Said Louis Rompre, Trane Technologies.
The 2023 Heat Pump Awards nominations will be opening soon! More info
See photos of the Heat Pump Forum and Heat Pump Awards
For more information:
Irene Egea Saiz, Project Officer, EHPA: irene.egea@ehpa.org