Organisations produce heat pump acceleration plan to give EU Commission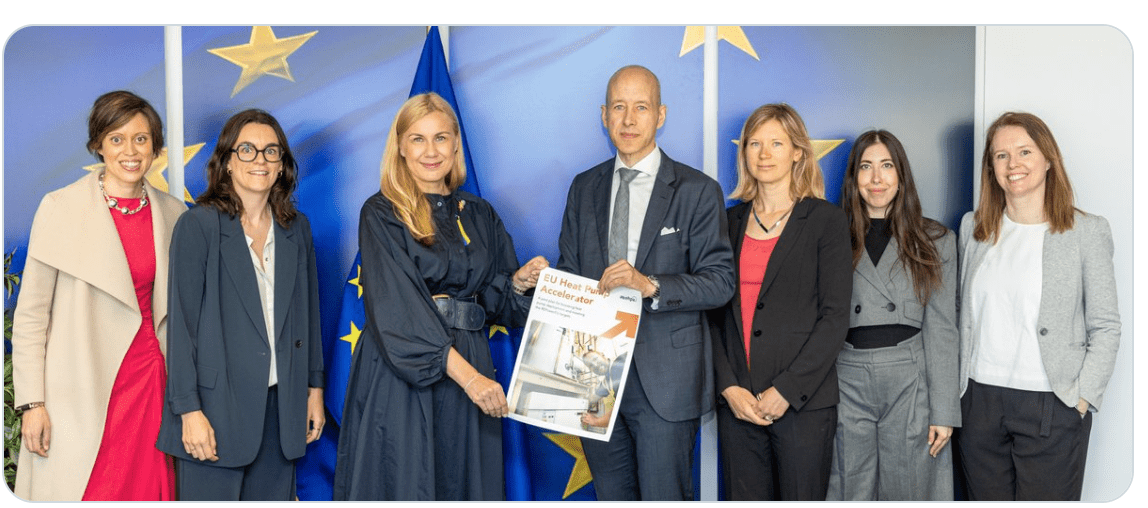 Photo: EU Commission
23 organisations including industry, governments and NGOs have drawn up a roadmap of the barriers facing the heat pump sector – and solutions to overcoming them.
The 'Heat Pump Accelerator' was handed over to EU Energy Commissioner Kadri Simson on 6 June by the coordinators of the initiative, the European Heat Pump Association and the European Climate Foundation.
The European Commission is due to publish its first ever heat pump action plan by the end of 2023, to help the sector reach the REPowerEU target. This target means 60 million additional heat pumps installed in Europe by 2030. Today there are around 20 million, and demand is increasing all the time, but the sector is facing bottlenecks.
Thomas Nowak, secretary general of the European Heat Pump Association said:
"Europe is closing the door on fossil fuels and getting renewable on the path to net zero. Heat pumps are now recognised as having a crucial role, as shown by the wide range of contributors to this Heat Pump Accelerator. We thank the European Commission for receiving the Accelerator and urge it to take heed of its recommendations. Above all, the sector needs a clear signal from policy makers of their long term support."
The barriers identified range from upfront and operational costs, to lack of clear information for consumers, to the shortage of installers. The five overarching solutions proposed are:
Make clean heating the standard;
Support European industry leadership;
Increase energy system integration with flexible heat pumps;
Make it easier for consumers in terms of information and affordability
Develop the required skills and workforce.
The contributing organisations are:
Agora Energiewende; Daikin Europe; Danfoss; the Environmental Coalition on Standards (ECOS); EIT InnoEnergy; Energy Cities; European Partnership for Energy and the Environment (EPEE); Eunomia; Eurelectric; European Bank for Reconstruction and Development (EBRD); EuropeON; GCP Europe; Glen Dimplex; Government of the Netherlands (Ministry of the Interior, Ministry for Economic Affairs and Climate Policy); International Energy Agency; Natuur en Milieu; Regulatory Assistance Project (RAP); Samsung Electronics; SmartEN; Stiebel Eltron; The European Consumer Organisation (BEUC)
Contact:
Sarah Azau
Head of Communications, European Heat Pump Association
Tel: +32 473 573 137
sarah.azau@ehpa.org