Meeting EU heat pump goals will slash 20% off heating bills – report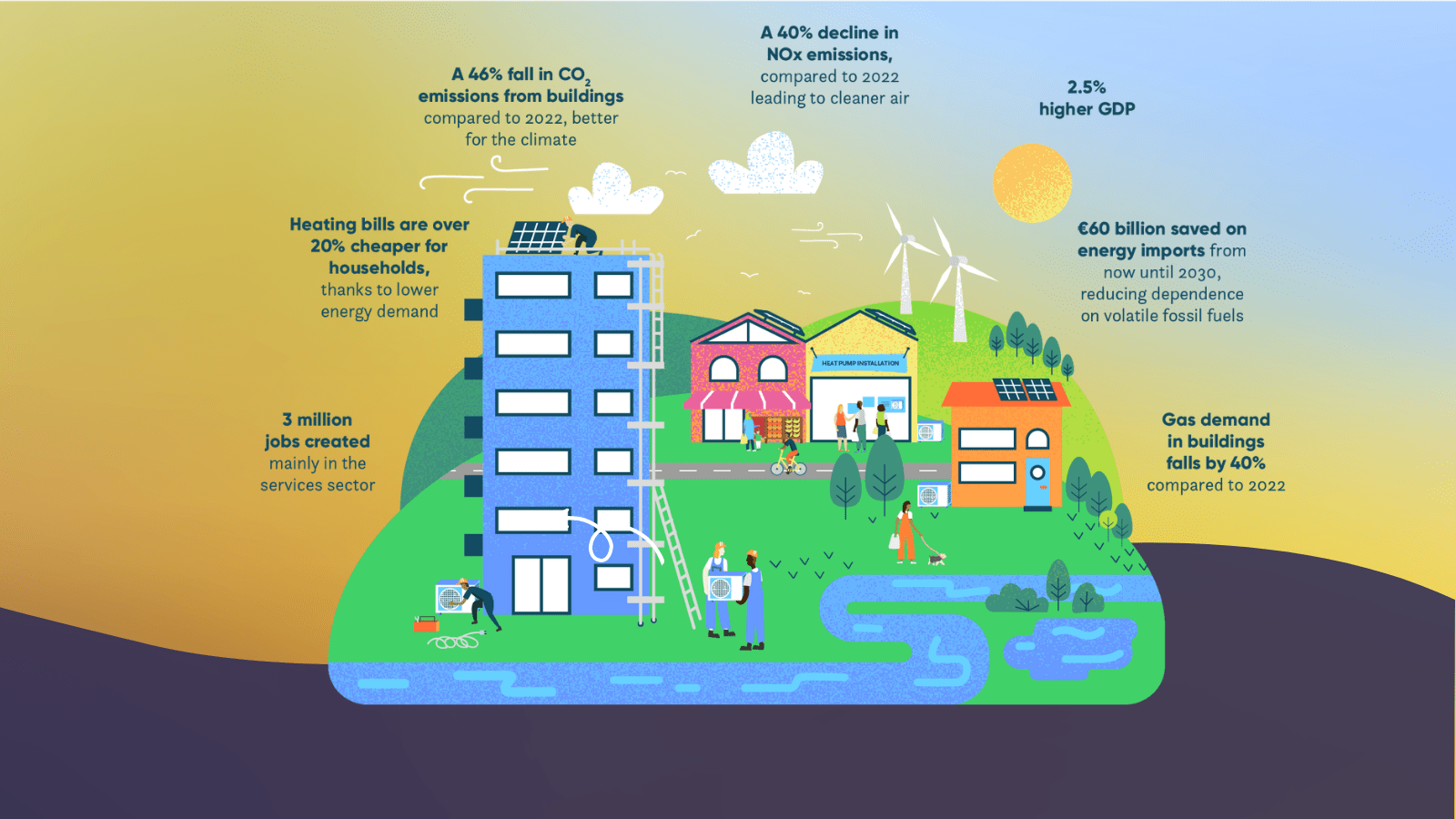 A fast heat pump roll-out in Europe will help tackle energy poverty; cut bills and gas imports, and boost health, jobs and GDP, new research reveals.
The research shows gas demand in buildings would drop by 40% between 2022 and 2030 if the EU's target of 60 million more heat pumps installed by 2030 is met.
What's more, Europe's energy imports would fall by €60 billion, and household heating bills by 20% by 2030 compared to a business as usual scenario, the analysis by thinktank Cambridge Econometrics – published today in a report from EHPA and the European Climate Foundation – shows. Heat pumps are around 30% cheaper to run than gas boilers over their lifetime.
Boilers running on fossil fuels are the main reason for the EU's high gas dependence and the fact that buildings are way off track in terms of decarbonisation.
Despite this, a new fossil fuel boiler is installed every eight seconds in the EU. The European Commission has proposed a ban on the sale of new fossil fuel boilers from September 2029, which is being discussed on 27 April.
Jozefien Vanbecelaere, Head of EU affairs at the European Heat Pump Association said:
"The importance of rapidly switching to heat pumps has never been clearer. From our lungs to our wallets, from our climate to our energy independence, speeding up the move away from fossil fuel boilers will bring an array of amazing benefits. We urge the EU to bring the fossil fuel boiler era to an end."
The modelling by Cambridge Econometrics, carried out on behalf of the European Climate Foundation and the European Heat Pump Association, also finds that meeting the REPowerEU heat pump target for 2030 would:
> Lead to a 2.5% growth in annual Gross Domestic Product (GDP) compared to a business as usual scenario
> Create 3 million net additional jobs compared to a business as usual scenario.
> Cut climate-harming CO2 emissions from EU residential buildings by 46% compared to 2022.
> Slash NOx from household heating almost 40% by 2030 compared to 2022. Heat pumps do not produce emissions that pollute the air we breathe, unlike burning fossil fuels and biomass.
Stijn Van Hummelen, Managing Director at Cambridge Econometrics (Belgium) said:
"Our new report suggests that, particularly if high fossil fuel prices persist over the coming years, a fast transition away from gas boilers to heat pumps in the coming decade would not only help reduce reliance on fossil fuel imports by 2030, but also generate additional employment and reduce household spending on energy."
Dimitri Vergne – Sustainability team leader at the European Consumer Organisation (BEUC) said:
"It is a no brainer that switching from fossil fuel boilers to heat pumps benefits both the planet and consumers savings. To roll out heat pumps in our homes rapidly, authorities must give a hand to consumers to overcome the high upfront costs, the hurdles of finding an accredited and trustworthy installer and to better insulate their homes"
See the report, 'Europe's leap to heat pumps'
Notes to the editor:
This study is the update to a 2022 version with the current and foreseen higher energy prices deepened by the Russian invasion of Ukraine. It models REPowerEU's goals of 30 million hydronic heat pumps to be added by 2030 – which translates into around 60 million more heat pumps including air to air types – and compares this to a business as usual scenario with a continued high reliance on fossil fuel boilers.
To meet the EU's climate objectives, the building sector will need to achieve a 60% reduction in greenhouse gas emissions between 2015 and 2030, and fully decarbonise by 2050. However, emissions from the EU's residential building stock are only expected to decrease by 11% between 2022 and 2030 under currently adopted policies.

Contact:
Sarah Azau
Head of communications, European Heat Pump Association
sarah.azau@ehpa.org
Tel: +32 473 57 31 37