Meet the winners of the 2023 Heat Pump Awards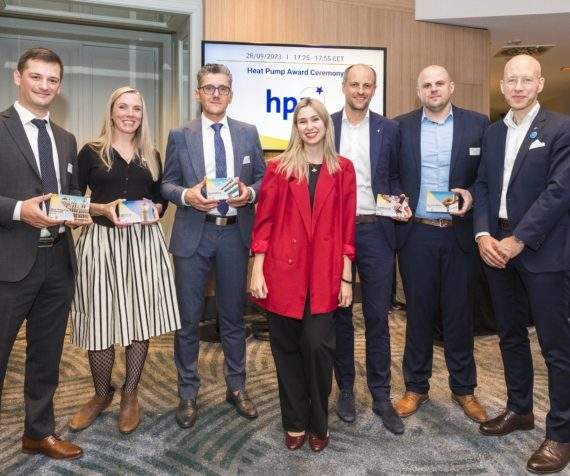 On 28 September, the European Heat Pump Association (EHPA) hosted the 13th edition of the Heat Pump Award, an event dedicated to honouring the most outstanding projects at the local, residential, and industrial levels. The Award Ceremony took place at the Grand Place Marriot Hotel in Brussels during EHPA's annual Heat Pump Forum.

The Heat Pump Award, an initiative of EHPA, aims to capture the remarkable progress and relentless innovation driving the heat pump industry forward. In this edition, the 13th, the Award received more than 40 applications from across the globe, each offering a unique perspective on how heat pumps play a vital role in our journey towards decarbonisation.

During the event, we granted recognition to winning projects in five categories: Heat Pump city of the Year, Decarbuilding – which celebrates the use of heat pumps in the building sector, Decarbindustry – use of heat pumps for more sustainable industrial practices-, Lighthouse Heat Pump – which rewards innovation and creativity, and People's Choice – crowning the most popular heat pump project based on public votes.

We extend our gratitude to all the participants who submitted their remarkable projects, to the jury of experts that assessed the submissions and to the public that enthusiastically casted their votes to determine the People's Choice Award winner.

The awarded projects for the 2023 edition are:

Heat Pump City of the Year Award: 'The world's first CO2-based energy network' in Sion, Switzerland, by ExerGo.

Introduced by Enrique Vilatmitjana Managing Director at Panasonic Heating & Cooling Solutions Europe, and accepted by Dr. Alberto Mian, CEO at ExerGo.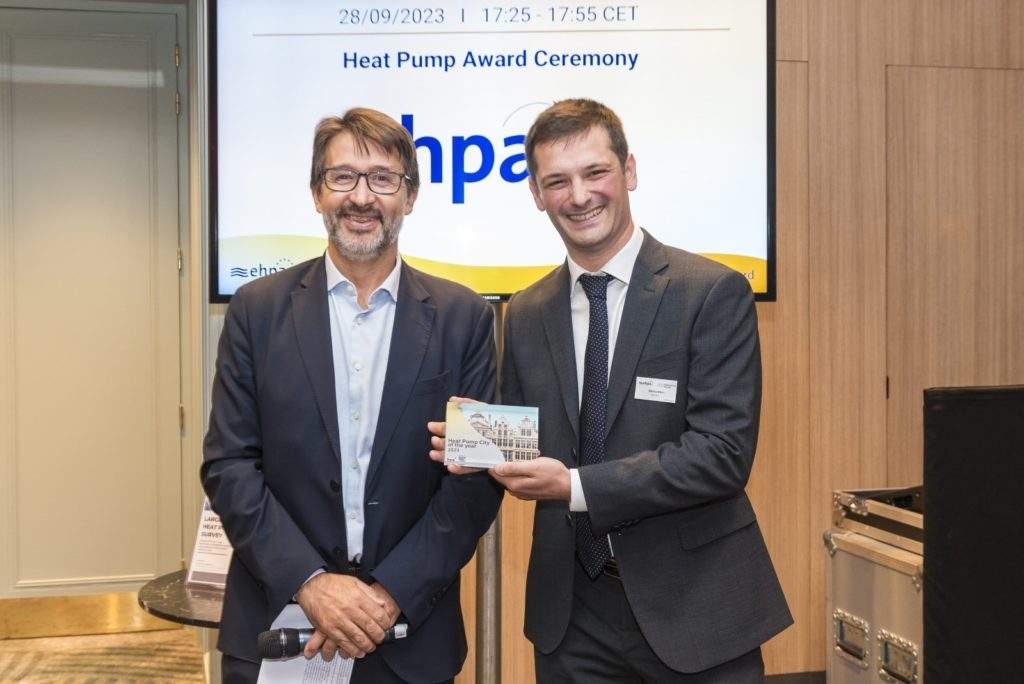 The project represents ExerGo´s efforts to pioneer the world's first CO 2-based energy network, using CO 2 as a heat transfer fluid instead of water. The higher energy density means smaller, flexible pipes can be used. The pilot plant in Sion, Switzerland, has provided 1,200 MWh of year-round heating and cooling since March 2022, optimising energy usage among the Energypolis Campus buildings at HES-SO University of Applied Sciences. 

Alberto Mian, CEO at ExerGo, said:  
"It is a great honour for ExerGo to receive the prestigious Heat Pump City of The Year Award from the European Heat Pump Association.This prize is an important milestone towards the recognition of our technology, the CO2 thermal network, as an efficient and ready-to-scale solution to decarbonize cities all around the world.My deepest gratitude goes to my team, our investors and Sion pilot project partners who contributed to boost our development and commercialisation." 
Decarbuilding Award: 'Water-Loop Heat Pump for heating systems retrofit in existing buildings' by INNOVA Srl.
The prize was introduced by Malgorzata Smuczynska, Regional Sales Director EAST and MD at ESBE Hydronic Systems, and accepted by Ilario Zanetti, Presales Engineer at INNOVA Srl.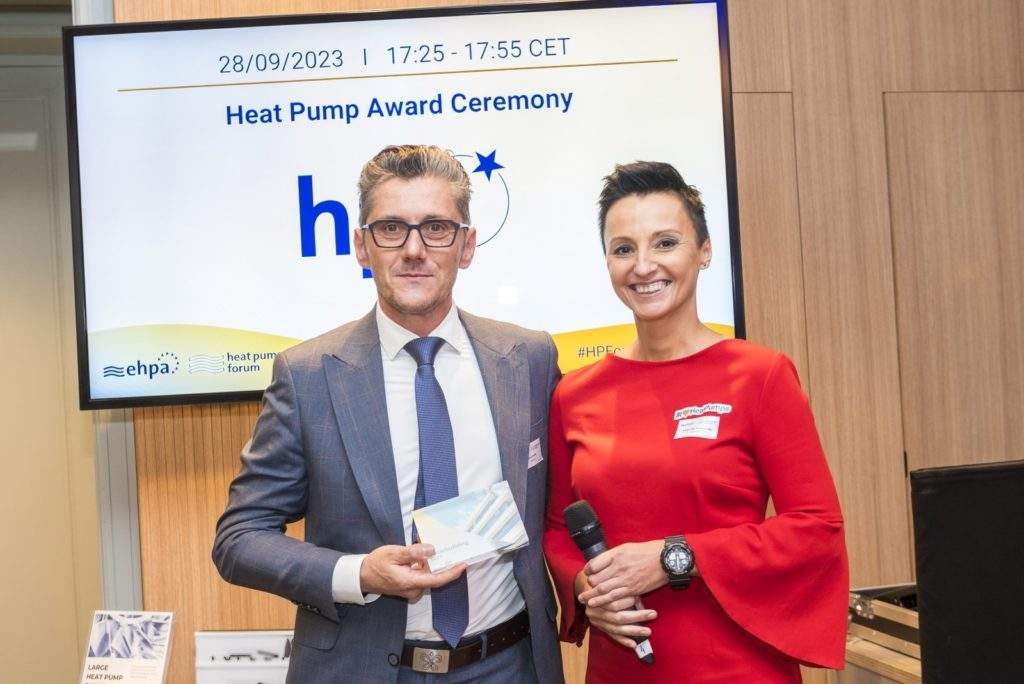 This project was born under the firm belief that the global shift toward electric-based energy systems is crucial for decarbonisation, especially in existing buildings. The innovative water-loop heat pump air conditioning system employs a primary heat pump to generate water suitable for standard pipes and radiators, ensuring consistent temperatures (20-35 °C) throughout the year. Quiet <ater loop heat pump water/air heat pumps replace high-temperature terminals, preserving a neutral water loop temperature. The fact that existing piping is used minimises disruptions during upgrades.
Ilario Zanneti, Presales Engineer at Innova Srl said:
"In order to decarbonise our building stock, we must equip large existing buildings with smart, clean heating and cooling technologies. Winning the DecarBuilding Award with our waterloop heat pump reinforces INNOVA's core mission: to grow through innovation."
Decarbindustry Award: 'How Bosch transformed the Eisenach plant into a pioneer in energy efficiency', by Bosch.
Introduced by Irene Egea Saiz, EU Projects Manager at EHPA, and accepted by Rudolf Marevic, Service and Portfolio Management at Bosch Sicherheitssysteme GmbH.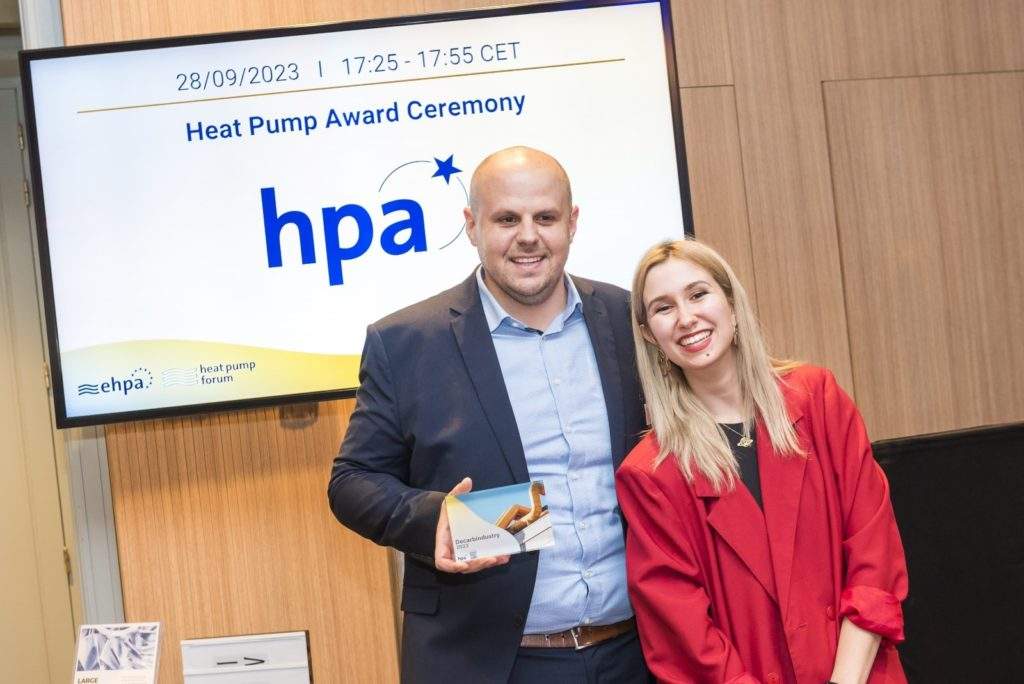 In this project, the Bosch Eisenach factory, formerly reliant on gas boilers and chillers, underwent a transformation to decarbonise its heating and cooling. It used compressed air waste heat recovery and a heat pump, slashing annual CO2 emissions by 2,400 tons, cutting gas consumption by over 90%, and lowering energy costs by approximately 600,000 euros. The site now boasts nearly carbon-neutral heating and cooling generation.
Rudolf Marevic, Service and Portfolio Management, at Bosch Sicherheitssysteme GmbH, said:
"We are honoured to have won the decarbindustry award this year. We would like to reproduce this kind of project to other locations too, #LikeABosch"

Lighthouse heat pump Award: 'Heat the streets', by Kensa Utilities.

Introduced by Patrick Crombez, General Manager for Heating and Renewables, EMEA, at Daikin Europe, and accepted by Lisa Treseder, Director of Business development at Kensa Utilities.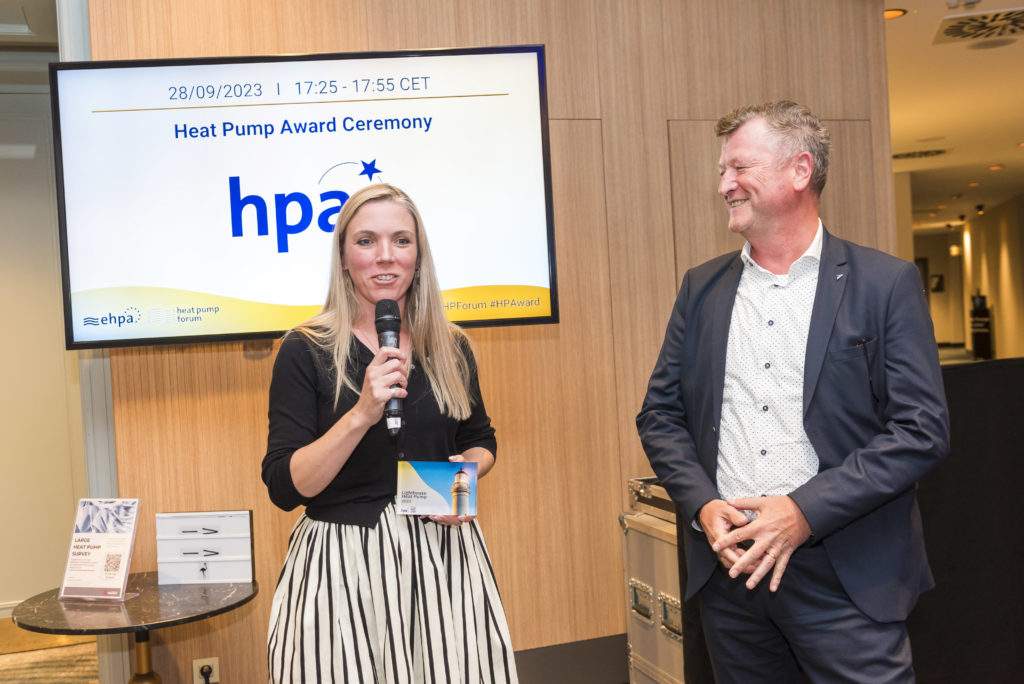 The Heat the Streets project showcased the feasibility of retrofitting ground source heat pumps to domestic properties at scale without a 'fabric-first' approach. It received partial funding from the European Regional Development Fund (ERDF) and was conducted in rural Cornwall. The project demonstrated the potential for coordinated, mass deployment of ground source heat pumps in a networked fashion, successfully installing the world's first in-road retrofit of a shared ground array and providing ground source heat pumps to over 100 properties, including new builds and retrofits, advancing the UK's net-zero heating goals.

Lisa Treseder, Director of Business development at Kensa Utilities, said:
"At the #HPForum, financing of heat pumps was a top priority. The focus was on selling heat services rather than commodities, which is exactly what we did on Heat the Streets. By treating the ground array infrastructure as a utility asset, we make it easier for our customers to say yes to heat pumps. Our model mimics the arrangements we already have with the gas network, making it very familiar to British households."

People's Choice Award: the most popular heat pump project: 'AHT Rottenmann - Decarbonisation Project: ​Gas Boiler Replacement' by Daikin Europe.

Introduced by Kaven Nourrice R&D Specialist at Frascold and accepted by Jan Logghe, Senior Manager at Daikin Europe.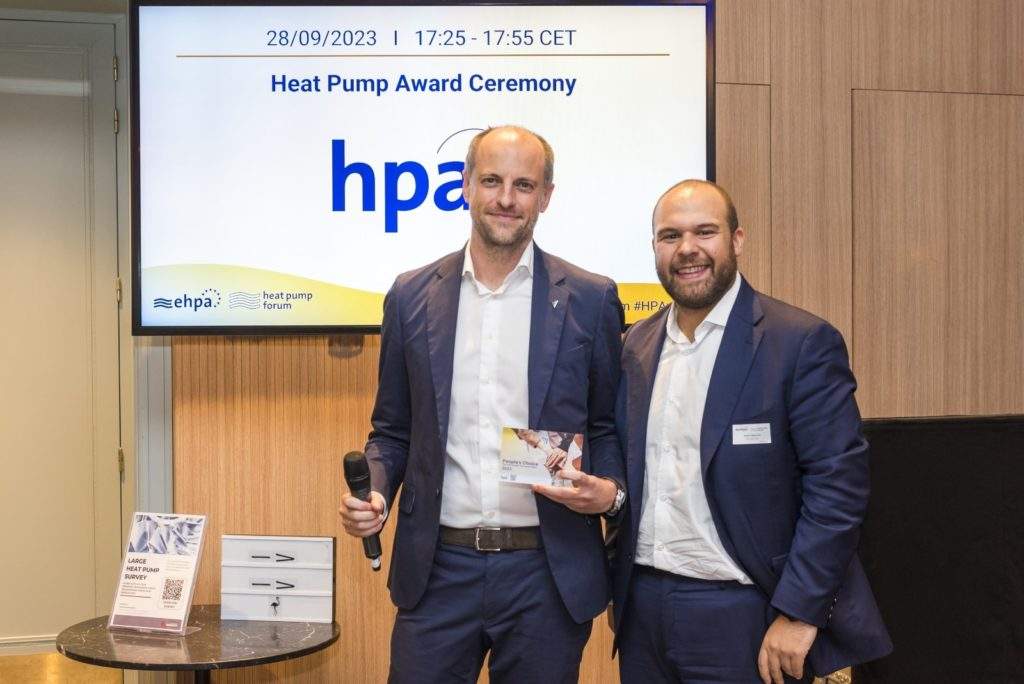 AHT Rottenmann's forward-looking Decarbonisation Project involved replacing gas boilers with a cutting-edge heat pump cascade, delivering a total heating capacity of 1,200kW. This sustainable system caters to the production facility of the plant, office building, and domestic hot water needs, aligning with the company's commitment to eco-friendly practices.

Jan Logghe, Senior Manager at Daikin Europe said: "We are exceptionally proud and thankful for the appreciation expressed by all the people who voted for our industrial heat pump project at AHT Rottenmann in Austria. Being awarded with the People Choice's award shows our solutions to decarbonise the industry resonate with a wide audience, for which we are very grateful."

The 2024 Heat Pump Awards nominations will be opening soon!  Keep an eye on https://hpa.ehpa.org/