Clean heat up high: the apartment residents thriving with heat pumps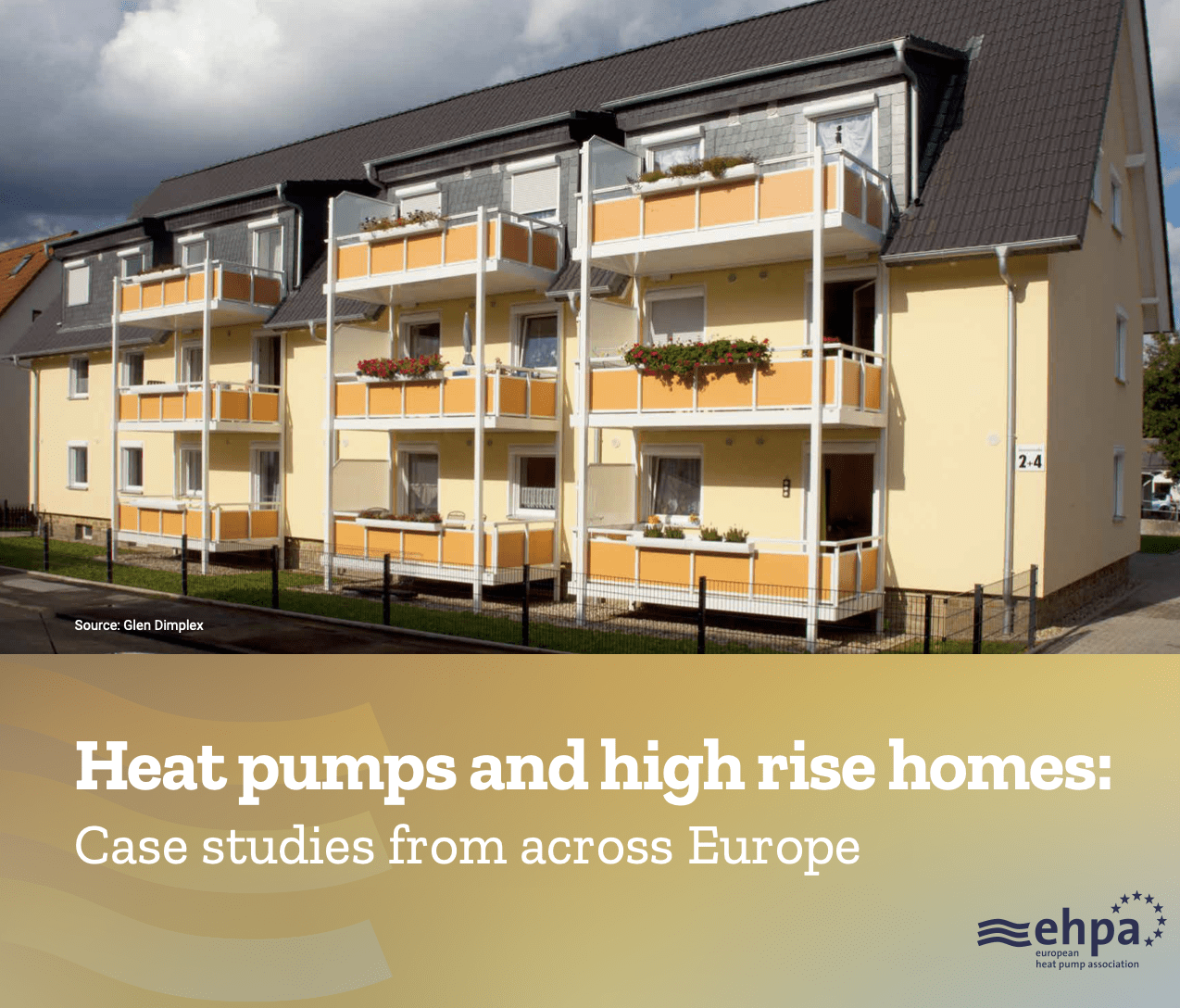 Across Europe, in apartment buildings big and small, new and old, people are enjoying the benefits of heat pumps, a new report coordinated by the European Heat Pump Association (EHPA) shows.
The case studies in the report come from countries from Ireland to Belgium to Germany. The stories told are of developers and project partners who share a vision of bringing clean heat to a high rise building and helping it decarbonise. They tell of innovative sources of clean heating and cooling via heat pumps, from sea water to geothermal and the outside air. They feature project partners identifying the right type of bigger or smaller heat pump that would best work in the available space, even on the building roof!
From new building projects into which heat pumps were factored from the start to full, sustainable renovation of social housing, there is a wide range of examples.
The benefits are multiple: from huge energy bill savings to massive emissions reductions.
To build on this, the European Heat Pump Association (EHPA) who coordinated the report with member companies, urges national and local authorities to communicate clearly that heat pumps work for all application and building types, including high rises, as this report shows!
It is also essential that the EU policy framework – the rules and regulations which impact heating and cooling choices – contains the right elements to support a large scale heat pump roll out in all types of buildings and applications.
To ensure the EU's heat pump targets are met, EHPA calls for long-term ambition on heat pumps to be spelled out by decision-makers. This should be reinforced through consistent policies. It's also essential to boost skills and training, as well as R&D, and make clean heating the financially most attractive choice.
The report was presented at a one hour webinar on 4 May 2023, organised by the European Heat Pump Association. Watch the webinar.
Quotes from the speakers at /companies represented at the webinar
Marek Miara – Business Developer Heat Pumps at the Fraunhofer Institute for Solar Energy Systems ISE:  
"Europe needs to decarbonise all its buildings. Heat pumps are the obvious choice to help achieve this and can work for all types of building, as we see in the report. Yet as long as clean heating is more expensive than fossil fuel heating, heat pump subsidies have to be continued. In parallel, the heat pump sector must be bolstered through supportive political messaging, laws and a focus on the weak spots like the need to ramp up the number of trained workers."
Claudio Carano – Head of Heat Pump Product Management, Clivet:
"Heat pumps are the key technology for decarbonising buildings and meeting the targets of the global energy transition. They work in both new buildings and renovation for a variety of services, from space comfort and domestic hot water to ventilation and energy recovery. Mature and versatile, heat pumps can always use the most sustainable source available, such as the sea in the case we are presenting today.
Hervé Pierret – Section Manager Marketing & Business Intelligence, Heating & Renewables SBU, Daikin Europe
"Replacing old electric heating in a social housing apartment building by our Daikin Altherma 3 low temperature heat pumps, proves that heat pumps fit collective buildings perfectly. We succeeded in upgrading a social housing complex of 197 apartments, with a sustainable solution, securing reduced CO2 emissions, and bringing lower energy bills for the tenants."
Rowena Rodrigues – Chief Marketing & Communications Officer, Glen Dimplex Heating & Ventilation
"Tackling heating in buildings has for a long time been the 'elephant in the room', however, in recent months, the energy crisis has put this into sharp focus. Deployment of heat pumps in new build is now standard in many markets, but we now need decisive action from policy makers to set clear long-term targets which will drive renovation of existing buildings, and replacement of fossil fuel boilers with heat pumps, in line with RePowerEU. This needs to be driven by a supportive overall policy framework, but most of all, by price signals which promote the use of clean electricity over fossil fuels."
David Broom – Managing Director, Kensa Contracting:
"The mass deployment of electric heat pumps is crucial to the decarbonisation of heat and achieving our net zero targets.
"Kensa Contracting has pioneered the use of unobtrusive and scalable Shared Ground Loop Arrays to cost-effectively and easily install Ground Source Heat Pumps in high rise and multiple occupancy dwellings."
David Broom continues:
"Kensa's ambitious social housing projects have proven that swapping electric storage or direct electric heaters for highly efficient ground source heat pumps results in significant savings for tenants in tower blocks, protecting low-income families from the cost-of-living crisis."
Yannick De Mol – Sales engineer projects, Vaillant Belgium:

"Modern high-rise buildings can benefit from heat pump systems that accommodate varying occupancy requirements. Hybrid systems offer a flexible solution, resulting in clear cost savings compared to outdated alternatives. By supporting the comfort and well-being of inhabitants, heat pump systems provide an innovative and sustainable solution for modern building designs."
Read the report: 'Heat pumps in high rise homes – case studies from across Europe', see the presentation from the launch webinar and watch the recording of the webinar.
Contact:
Sarah Azau
sarah.azau@ehpa.org
Tel: +32 473 573 137