Wanted: half a million heat pump workers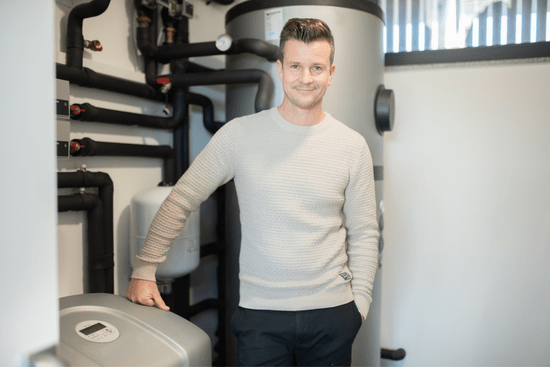 Jobs, jobs, jobs.
The European heat pump sector has a lot of jobs to offer, but there are not enough trained workers to fill them.
This thorny issue was tackled by speakers at a recent webinar EHPA organised as part of the EU-funded HP4All project, which focuses on skills.
Today, heat pump manufacturing in Europe happens in more than 170 sites, with a turnover of €14.5 billion.   
 We estimate the total number of employees in the European heat pump industry to be nearly 117,000 people. About 37% of these employees work in heat pump manufacturing.
 But with growing demand for heat pumps, we need more people to install them.
REPowerEU's ambitious heat pump roll-out targets mean we need 7 million more heat pumps connected every year by 2030 in the EU, up from about 2 million in 2021, according to the International Energy Agency.  
This in turns means more installers and other trained staff are needed. EHPA has calculated that we need a minimum of 500,000 skilled full time equivalent employees by 2030 in Europe.
To tackle this, EHPA is calling for EU support for skills development and training for the heat pump sector. What does this mean and how should it be done?
Julie Beaufils, secretary general of EuropeOn, which represents electrical systems operators in buildings and infrastructure, gave the keynote speech at the HP4ALL webinar.
She pointed out that workers are crucial to delivering on the EU green Deal. "More jobs, trainings and education are key to fill the gap between available and needed installation professionals to achieve the energy objectives of REPowerEU and boost the opportunities of the heat pump market".
Stephen Murphy, Lecturer and researcher at the Technological University of the Shannon in Ireland organises training sessions and workshops to raise awareness on the need for skills in the sector.
"Connecting manufacturers and suppliers with the installers is crucial", he said.
The webinar, which was called 'Heat pump skills and competencies, preparing for mass deployment', also dived into specific situations in two European countries.
Małgorzata Smuczyńska, Vice President of the Board at Polish Organisation of Heat Pump Technology Development explained that Poland, unlike other countries, is not suffering from a lack of trained heat pump installers.
"Industry and government are boosting vocational training courses for professionals: this can be a European case study", she said.
In Norway, although electricity is the main heating source, "training programmes for heat pump technicians are not yet good enough", said Rolf Iver Mytting Hagemoen, Secretary General of Norwegian Heat Pump Association (NOVAP). NOVAP itself offers offers over 10 educational programmes on heat pumps.
"Cooperation remains pivotal, not only to develop training courses but also apprenticeships and consumer guidelines," he stated.
Frantisek Doktor, Senior Adviser at the ViaEuropa Competence Centre, said that it was important that public authorities look past just boosting heat pumps and also "fund the schools, training centres and courses as they are just as important. Many people are interested in those sector trainings."
Overall, it was clear at the webinar, which was attended by almost 100 participants, that many more candidates are needed to fill the huge demand for heat pumps and therefore people to install them.
This can be done by broadening the pool of workers, including towards young people, ensuring security of employment. This can be matched with a wider range of training sessions which could be managed by schools, heat pump associations, heat pump manufacturers, and institutes.
In the words of Frantisek Doktor:
"The energy transition is priority number one – public authorities need to put the money and support behind it"