Germany's impressive heat pump sales growth: +53% in 2022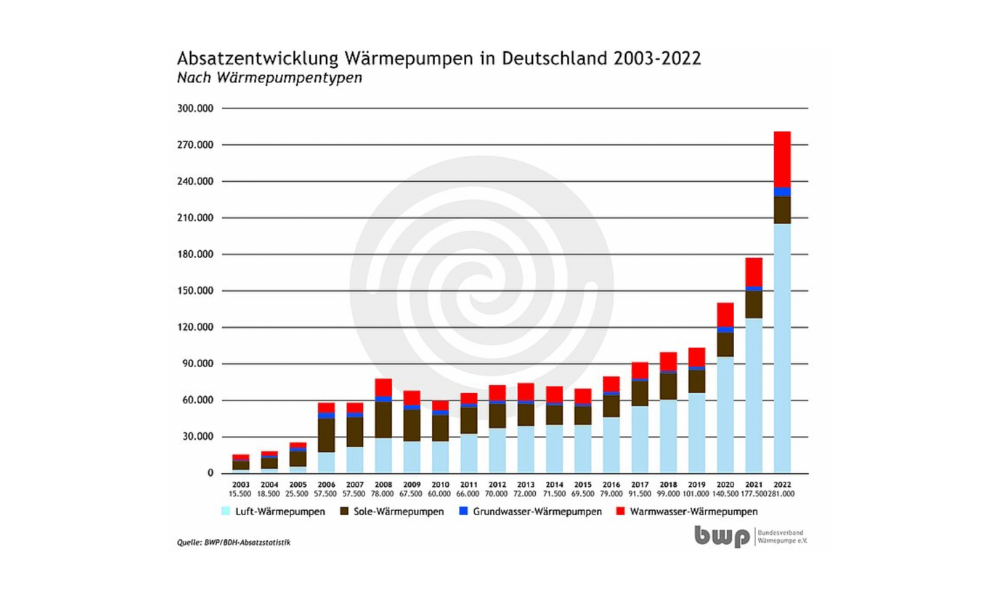 Germany's heat pump market has witnessed an impressive 53% growth in 2022, the German Heat Pump Association (BWP) reports.
This growth has been mainly driven by the increasing awareness among consumers about the importance of climate-friendly and efficient heating. Heat pumps provide the best alternative to fossil fuel heating, while break free from gas imports. "We must now continue to build on this. The target of 500,000 devices already issued by the Federal Government for 2024 is ambitious but achievable » says Paul Waning, BWP's Chairman of the Board of Directors.
BWP's data breakdown shows that of the 236,000 new heat pumps sold in 2022, 205,000 were air-water heat pumps (+ 61%), of which around 104,000 were monoblock devices (+ 68%) and 65,000 split devices (+49%). Brine-water heat pump sales increased by 15%, with 31,000 ground-coupled systems sold last year. The number of hot water heat pumps designed to heat drinking water has also increased significantly, with a record-breaking +90% over the previous year, equal to 45,500 devices.
The 53% sales increase over the previous year is expected to continue surging in the future, in line with current European and global trends. Even in a difficult environment with personnel and supply bottlenecks, the heat pump industry proves it can deliver, staying ahead of the game by investing massively in the expansion of existing production facilities as well as in the construction of new plants, emphasizes BWP.
Measures on gas and electricity prices will continue to be crucial. "This growth depends not only on the actions of the industry but above all on the demand side » notes Martin Sabel, Managing Director of the German Heat Pump Association, who adds "Consumers need a clear orientation that the switch from a gas or oil boiler to an electricity-powered heat pump pays off. The gas and electricity price breaks adopted last December are important social policy measures that also help heat pump households. To have a sustainable steering effect, however, the price of electricity must also be further adjusted».
A heat pump has the huge potential to become the standard solution for sustainable heating, says BWP. To make this possible, the association calls on the German government to quickly submit the promised amendment to the federal Building Energy Act. Specifically, the regulation, that from next year, will have every new heating system installed in Germany operate with at least 65% of renewable energy sources.
"The current market dynamics show that skilled workers, the heating industry and consumers can and want to be part of this change. We urgently need legal planning to get the job done » concludes Sabel.
Read BWP's press release here (in German)
For further information , contact BWP Press Manager, Katja Weinhold, tel. +49 030 208 799 716, presse@waermepumpe.de