What are you looking for?
Which countries are scrapping fossil fuel heaters?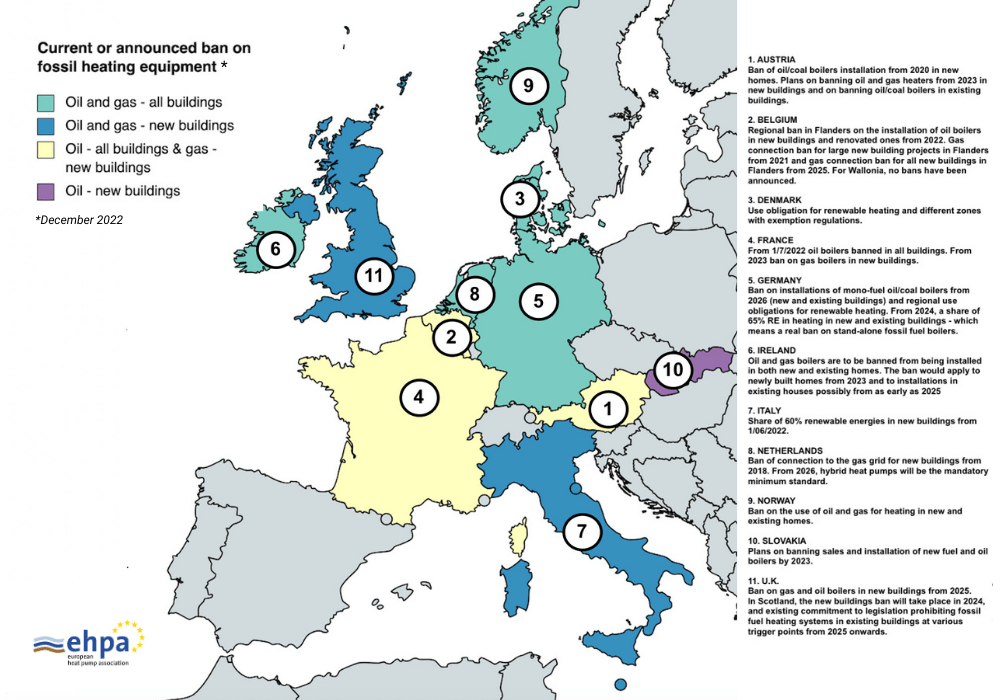 More and more countries are banning fossil fuels in heating!

So who's announced or planning what so far?

From GERMANY which is going to end mono-fuel oil boilers from 2026 in new and existing buildings require 65% renewables in heating from 2024, to IRELAND where from 2023, oil and gas boilers will be banned from new homes and likely in 2025 from existing ones, to SLOVAKIA which plans on banning sales and installation of new fuel and oil boilers next year, announcements are coming thick and fast, across Europe.

Take a look at the map to find out more:
| Name | Type | Date | Action |
| --- | --- | --- | --- |
| Fossil fuel heater phase-out map | | 15/12/2022 | Download – |
Do you know of any other European country which is considering a decision on fossil fuel heating? Let us know! policy@ehpa.org.

You can also check out here what's happening in the United States.
We use cookies on our website to give you the most relevant experience by remembering your preferences and repeat visits. By clicking "Accept All", you consent to the use of ALL the cookies. However, you may visit "Cookie Settings" to provide a controlled consent.
Privacy Overview
This website uses cookies to improve your experience while you navigate through the website. Out of these, the cookies that are categorized as necessary are stored on your browser as they are essential for the working of basic functionalities of the website. We also use third-party cookies that help us analyze and understand how you use this website. These cookies will be stored in your browser only with your consent. You also have the option to opt-out of these cookies. But opting out of some of these cookies may affect your browsing experience.