Turning REPowerEU into reality – the role of EU funding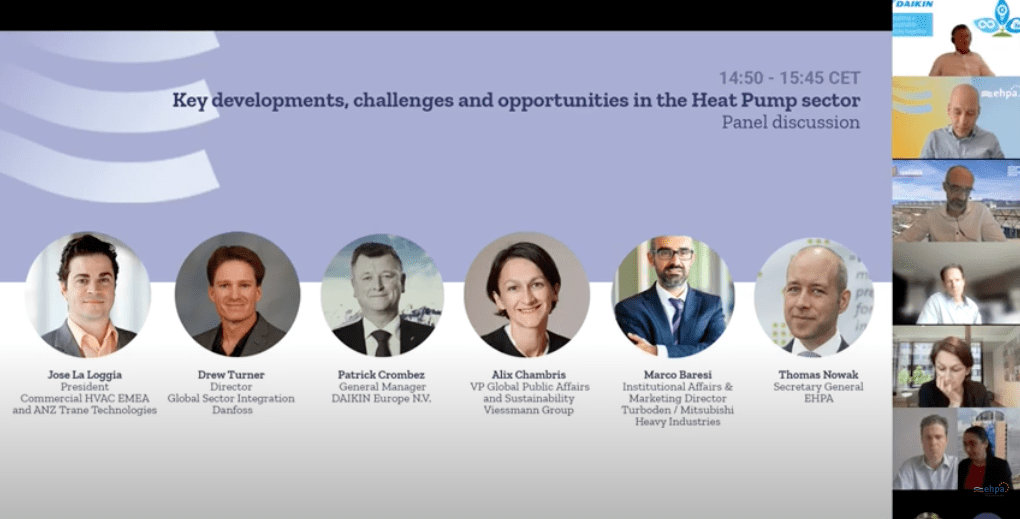 "The automotive sector was given thirty years to ramp up. The heat pump sector – about two!"
Despite the short timing, the heat pump sector is ready to do all it can to meet the EU's ambitious new targets for heat pumps – around 60 million by 2030, said Alix Chambris, Vice President at Viessman at a recent EHPA event.
But in times of unprecedent disruption – from the war in Ukraine to a likely upcoming recession – not every element is in its hands, she pointed out. And this is why the right funding, as well as the right policies, are crucial
The event, organised by EHPA's projects team with the European Geothermal Energy Council and the European Commission's climate department, focused on the EU's upcoming €3 billion call for clean projects including heat pumps. This new slice of funding is opening up as part of the REPowerEU plan to decrease the EU's imports of Russian gas by one third this year. The details of the call, which will be launched in November, were presented by Maria Velkova, deputy head of unit, and Ewelina Daniel, project officer from the European Commission.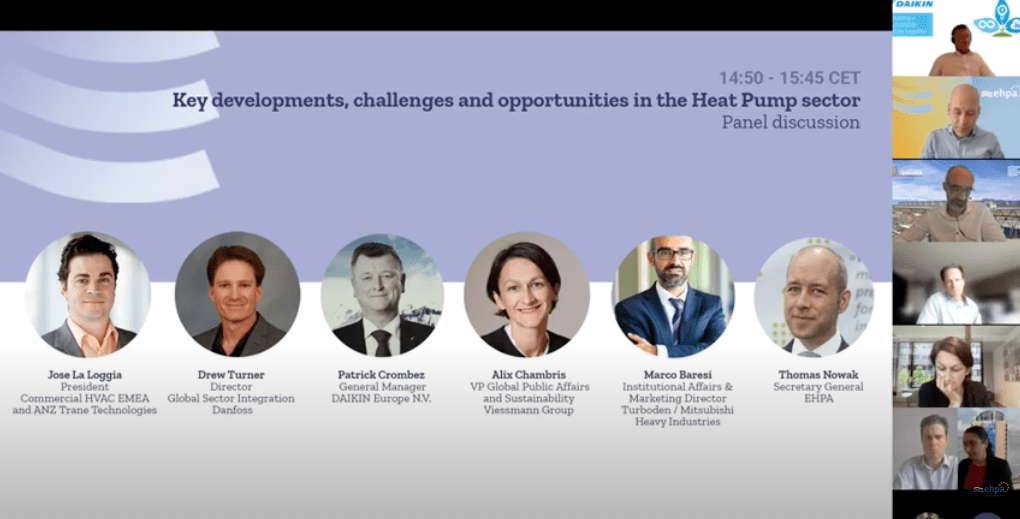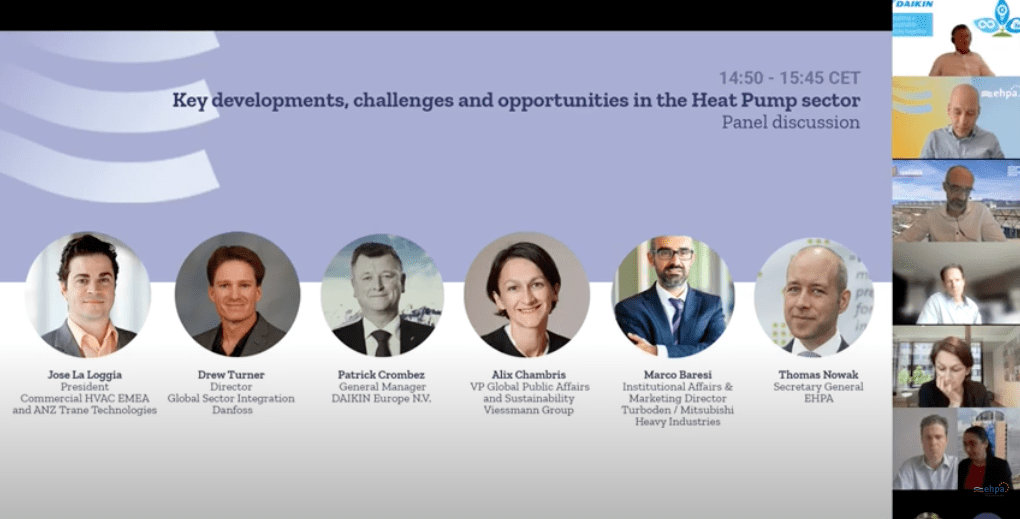 Jose La Loggia, president of commercial HVAC at Trane Technologies pointed out that there is a clean "low-hanging fruit" to start stepping up production quickly. This is connecting chiller plants to heating plants, which can be especially feasible for commercial use, for example in supermarkets.
Commercial applications are indeed moving much faster, said Patrick Crombez, general manager heating and renewables from Daikin. But he was confident that the residential market will follow suit rapidly. REPowerEU has given manufacturers confidence
Drew Turner, global marketing manager with Danfoss made the point that the industry is ready to meet REPowerEU, but that "the infrastructure is not". To integrate heating and cooling more, we need investment in infrastructure and heating networks, to maximise efficiency
REPowerEU is ambitious and welcome, said Jozefien Vanbecelaere, EHPA's head of EU affairs. But the elements it contains need to be brought together in an acceleration strategy. This should focus on policy security, making clean heating the most economically attractive option, maintaining a stable market, focusing on skills and R&D, she explained to the online audience.
Sanjeev Kumar, head of policy at the European Geothermal Council believes that "We have a heat crisis, not a power crisis". EU funding will be crucial to help the sector deliver on the EU targets and get clean European heating. But for this, the EU must prioritise helping and rewards innovative clean heating solutions that replace fossil gas, he said.
For Marco Baresi, institutional affairs director at Turboden / Mitsubishi Heavy Industries, there should be a funding focus on large scale industrial heat pumps of 3-30 MW and up, as well as on high temperature heat pumps.
The overall conclusion from the event was positive. REPowerEU is a tipping point for the heat pump sector, which is raring to go and indeed is already increasing production rapidly. But to be sure of meeting those targets, participants agreed that the right conditions are needed. And that includes targeted EU funding. The upcoming innovation fund call will be a crucial piece of the puzzle.