#HPCY Webinar: Video and Presentations of the Heat Pump Cities of 2019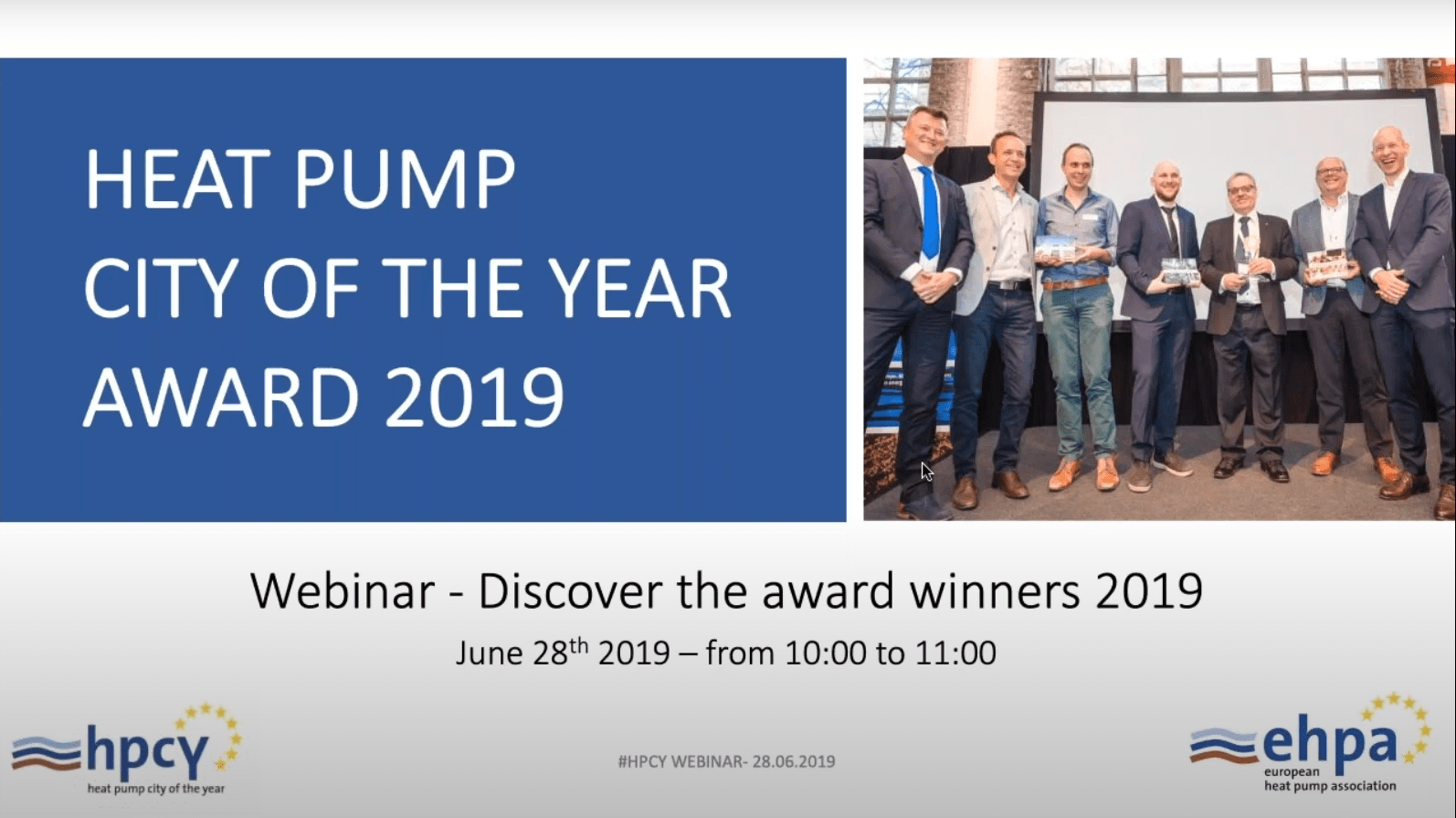 Discover the winners of the categories DecarBuilding, DecarbIndustry, Next Generation Heat Pump, and the main category Heat Pump City of the Year.
The Heat Pump City of the Year is a yearly award launched in 2011 to put the spotlight on cities and regions who have put in place an energy efficiency projects, including heat pumps and other renewables. The international appeal of the award has grown year after year so that it now attracts participants from all over Europe; submitting projects from single residential, commercial and industrial buildings. Until now, the international jury has received more than 155 applications from all around Europe and awarded 20 existing solutions, which, if replicated, could lead the path to a full decarbonisation of the heating and cooling sector in Europe.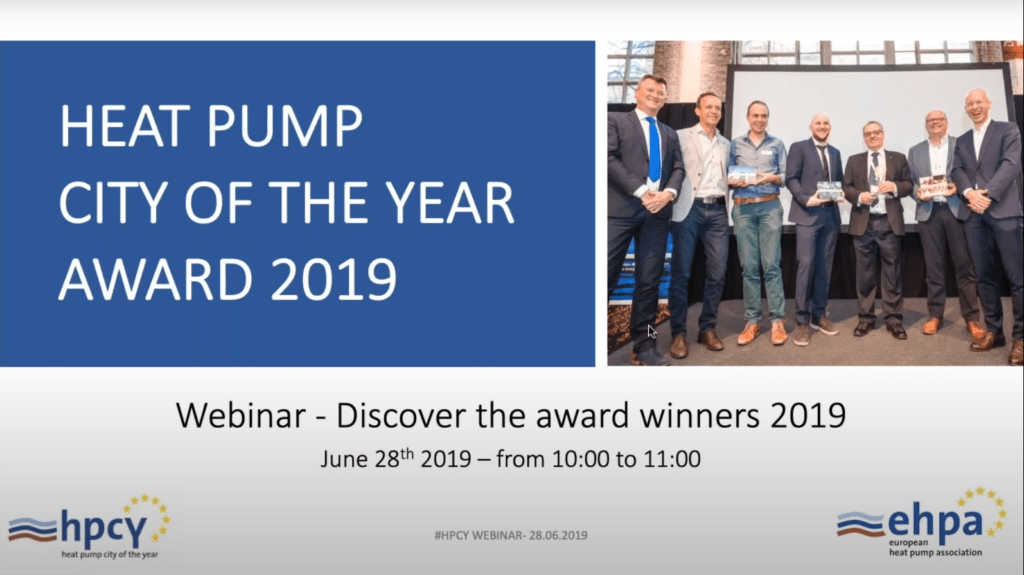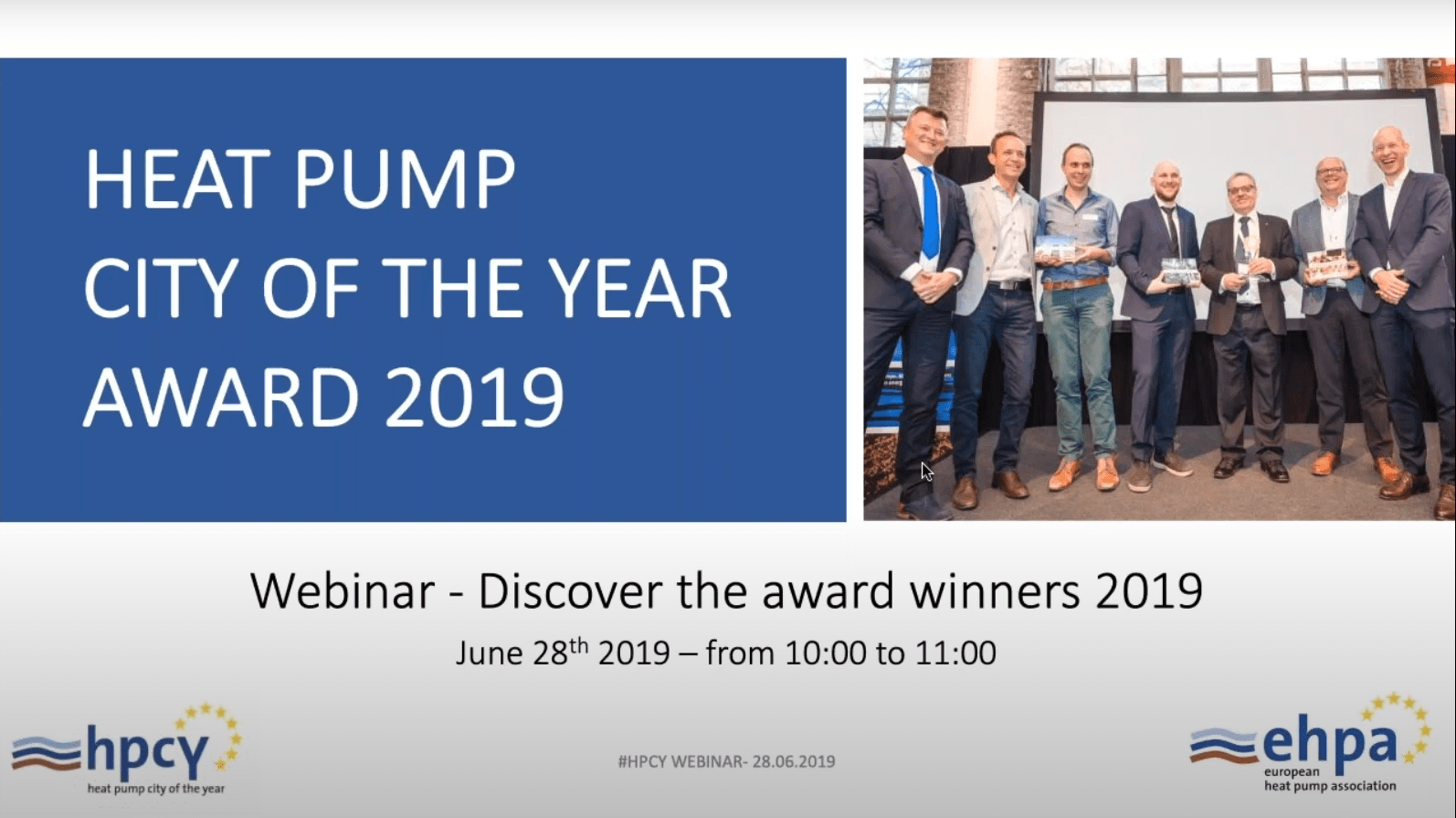 On the 28th of June, EHPA organised a webinar providing an opportunity to learn more about the winning projects of the 2019 edition, recently celebrated during the Heat Pump Forum 2019, in Brussels.
Presentation of the Heat Pump City of the Year Award

Thomas Nowak, Secretary General of EHPA
This year EHPA received 22 convincing applications from 15 countries for four main categories: DecarBuilding, DecarbIndustry, Next Generation Heat Pump, and the main category Heat Pump City of the Year. The awards were handed over during the Heat Pump Forum 2019, on the 16th of May 2019, in front of a public composed by experts of the heat pump sector, policymakers, and interested stakeholders.
"A very high number of convincing applications arrived for this year's Heat Pump City of the Year awards, making the decision on the winners a real challenge. I am delighted to see that the industry has matured to this level and will use the applications to prove the potential of heat pumps in the decarbonisation of cities and regions", said Thomas Nowak.
Heat Pump City of The Year winner: "BEST7 in EU-GUGLE", Tampere (Finland)

by Janne Heinonen, CEO of ENERMIX OY
Located in Tampere (Finland) and developed by ENERMIX OY company, "BEST7 in EU-GUGLE" is a multi-apartment building in which PV electricity and green electricity from the grid (hydropower) are powering heat pumps, and excessive heat is delivered directly to the district heating network. Janne Heinonen, CEO of ENERMIX OY, underlined that the systems, managed by cloud-based algorithms, remotely control the 2-way district heating and makes possible to easily scale-up this concept to all the 30.000 multi-store apartment buildings in Finland.
"2-way district heating has been used for decades by industrial customers where excessive heat has been sold to the DH network. Now also residential buildings are looking for this opportunity as heat pump technology has improved. This project demonstrates in practice how typical residential building improves its energy efficiency and utilizes 2-way connection with heat pumps." said Janne Heinonen.
DecarbIndustry winner: "New Dairy – Tine Bergen", Bergen (Norway)

by Richard Horntvedt, Project Sales at Hybrid Energy
Richard Horntvedt, Project Sales at Hybrid Energy, presented the company's latest project at TINE in Bergen, which is the first complete Dairy without fossil or direct electric heating representing a state-of-the-art cooling and heating integration system. Conventional heating and refrigeration machinery are used in the Energy Central including the high-end temperature applications. The high level of energy recovery contributes strongly to the reduction in plant energy consumption and CO₂ emissions.
"The complete Integration of cooling and heating systems for optimal recovery of waste and low-temperature heat brings TINE SA into a leading position for cost-efficient and environmentally friendly solutions. Hybrid Energy is proud to be part of this pioneering project and convinced that future Dairy plants will benefit from the innovative solutions now implemented by TINE SA", said Richard Horntvedt.
Next Generation Heat Pump winner: "PHAC-system", Achtmaal (The Netherlands)

Jochem van Haaren, owner of NRGTEQ BV
Following the concept of "passive heating and active cooling", a closed circuit with plain water provides year-round cooling and heating both for commercial and residential buildings and industrial processes. Jochem van Haaren, owner of NRGTEQ BV, highlighted how the heat pump runs only in summer in active cooling mode and also provides up to 80 degrees hot water, which is stored in the PHAC system to be used during the winter period. The system is using PVT panels, heat pumps and thermal storage to reduce the amount of electricity needed, so the load on the electricity grid.
"Solving our energy problem in Europe is not about looking for new sources of energy but about when to use it, how to use it and store it for the time you need it", said Jochem van Haaren.
DecarBuilding winner: "Turnova in Turnhout", Turnhout (Belgium)
Nejc Brelih-Wasowski, Knowledge Manager at Boydens
This project, developed by the municipality of Turnhout, upgraded in a technological and sustainable way buildings in a part of the city centre. Nejc Brelih-Wasowski, Knowledge Manager at Boydens Engineering, explained that buildings like social houses, shopping centres, restaurants have been connected via an aquifer thermal energy storage (so-called ATES), which works with a thermal loop system and water-water heat pumps. This system provides heating and cooling to the buildings, by extracting and injecting the water from aquifers, utilizing groundwater wells. This solution is reducing significantly the CO₂ emissions of the heating and cooling system of the town.
"Rome was not built in a day, but we will have to move much faster, building by building, to #DecarbHeat. Heat pumps are an essential piece of the solution that will enable us to achieve that" , said Nejc Brelih-Wasowski.
Q&A session
After the presentations, took place also an interesting Q&A session starting at min. 01:10:10
For more information, you can contact:
Alfredo Salmaso
Communication Assistant
Email: comms@ehpa.org