Heat pump record: 3 million units sold in 2022, contributing to REPowerEU targets
European Heat Pump Association > > Heat pump record: 3 million units sold in 2022, contributing to REPowerEU targets
Heat pump record: 3 million units sold in 2022, contributing to REPowerEU targets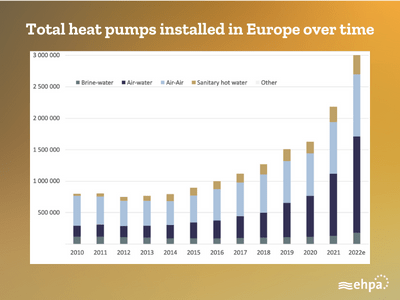 The European heat pump market broke a new record in 2022 according to early data from 16 markets*, with around 3 million units sold. Figures for 2022 gathered by the European Heat Pump Association indicate growth of almost 38%, more than the previous year's unprecedented rise of 34% in annual sales. The total number of connected heating heat pumps (both air to air and 'hydronic' or water-based) and hot water heat pumps in Europe is now around 20 million. They are providing heating to about 16% of Europe's residential and commercial buildings**.
The number of heat pumps sold in 2022 replace roughly 4 billion cubic metres (bcm) of natural gas, avoiding about 8 million tonnes (Mt) of CO2 emissions. Europe's entire heat pump stock now avoids 54 Mt of CO2 – roughly equivalent to the annual emissions of Greece. The extraordinary growth is likely to continue given the need to decarbonise in the light of the climate emergency and move away from fossil fuels as set out in the REPowerEU plan. The urgent need to act is substantiated by government support for the energy transition in heating across Europe.
Thomas Nowak, secretary general of the European Heat Pump Association said:
"2022 was a phenomenal year. The spectacular heat pump growth is testament to an innovative and sustainable sector which is doing everything to increase capacity and accordingly is creating jobs, helping climate action and stabilising energy bills. But still many in Europe do not yet have a heat pump for reasons ranging from the sector operating at capacity to upfront costs to lack of clear information. We are working closely with a coalition of organisations and the European Commission to build an EU heat pump plan which addresses these crunch points."
The sales volume of 2022 was realised against a very challenging market environment with stakeholders throughout the value chain working at capacity and supply chains for heat exchangers, fans, compressors and semi-conductors stretched to the limit. On the end-user level information gaps and upfront and operating cost issues need to be addressed to ensure continuous future demand. Manufacturing stakeholders and industry associations are working with think tanks, NGOs and others to input into the EU Commission's upcoming heat pump plan to ensure these points are tackled.
Some of the barriers may be eased on a more local level. Training and retraining initiatives have been started by industry and labour organisations across Europe to build up more installers and trained workers, for example, contributing to the European year of skills and the EU pact for skills.
In terms of increases in heating heat pump sales compared to 2021, Poland leads by quite a margin with slightly above +100% over 2021's sales, followed by Czechia (99%), the Netherlands (+80%), Belgium (+66%), Sweden (+60%), Austria (+59%), Germany (+53%) and Finland (+52%). A second group of countries shows strong growth between 20 and 40%: the UK (40%, but based on estimates not official figures); Italy (+37%), Norway (+25%), Spain (+21%), Switzerland (+22%) and Denmark and France (both +20%).
2022 sales of heating heat pumps in selected countries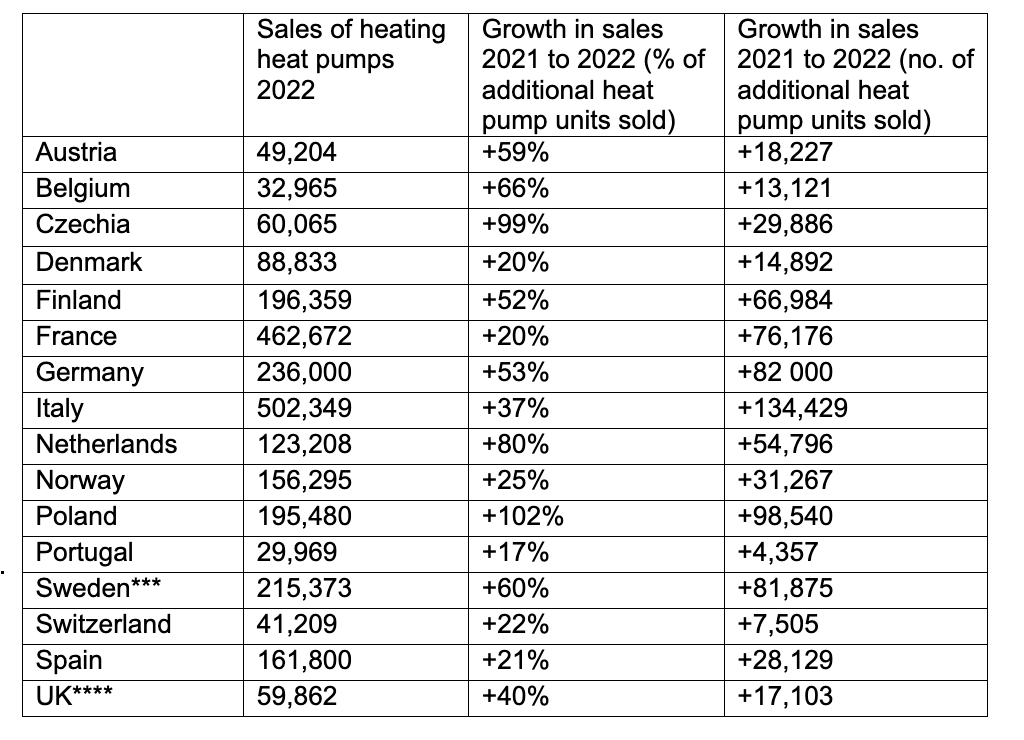 Heat pumps sold per 1,000 households in 2022 per country (household numbers based on 2021 data)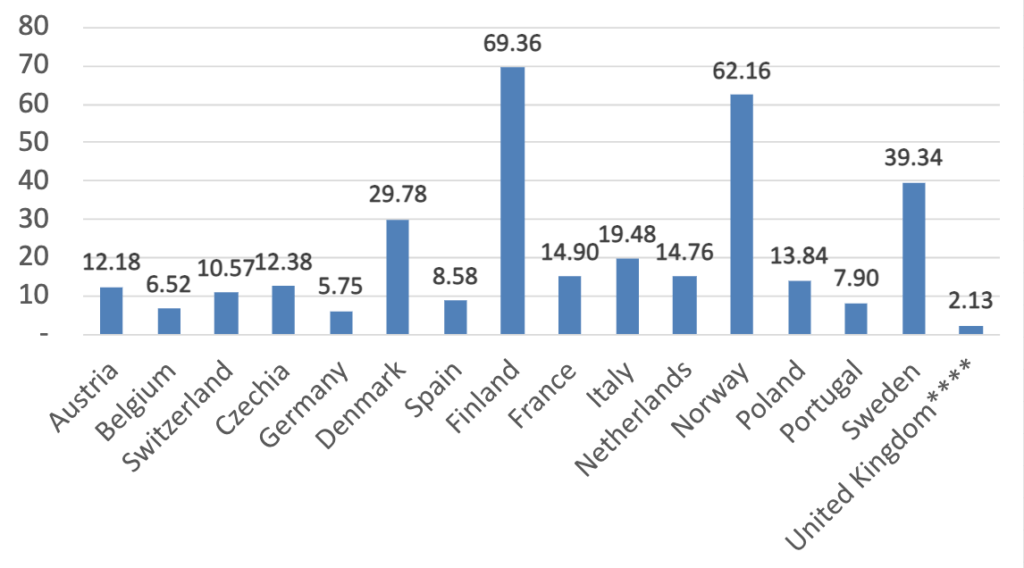 EHPA publishes an annual market report which goes into detail on sales of different types of heat pump in the different countries. The 2023 edition, which presents data from 2022, will be available later this year. For previous editions (available for EHPA members and accredited journalists) and more information, see https://www.ehpa.org/market-data/ or contact marketreport@ehpa.org
* Austria, Belgium, Czechia, Denmark, Finland, France, Germany, Italy, Netherlands, Norway, Poland, Portugal, Slovenia, Spain, Switzerland, UK.
** Growth rates are calculated based comparing sales for heating heat pumps with data available to EHPA at the time of publication. Growth rates presented in individual national press releases may differ as as result of comparing sales for individual market segments. The overall figure of 3 million combines 2.7 million heating heat pumps and about 320,000 hot water heat pumps. For Estonia, Hungary, Ireland, Lithuania and Slovakia we added their 2021 sales numbers to make the overall total.
*** Sweden's heat pump calculations now include air to air heat pumps, which is why the growth displayed is so significant.
**** The UK's figures are not official but are an estimate based on expert opinion
For interviews with Thomas Nowak, EHPA secretary general or further information, please contact:
Sarah Azau
Head of Communications – European Heat Pump Association
Tel: +32 473 573 137
Email: sarah.azau@ehpa.org