Heat Pump KEYMARK recognition in the Netherlands: an important step towards a single European market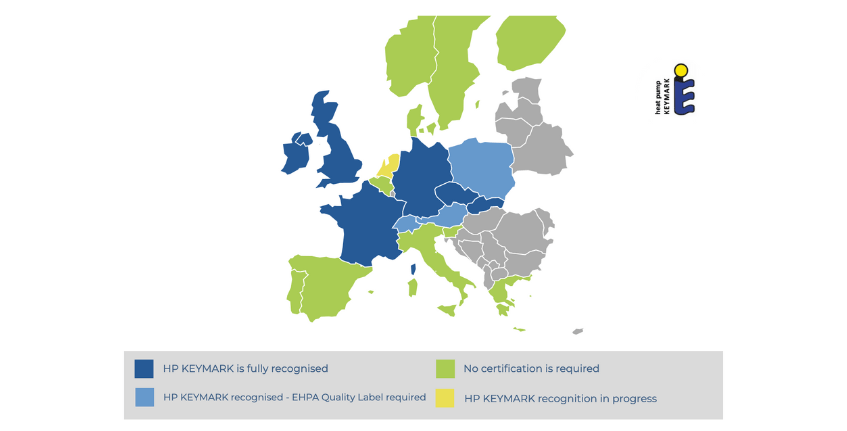 A product tested and certified once should be recognised for its quality and performance across Europe, and the Heat Pump KEYMARK recognition in The Netherlands represents an additional step in the accomplishment of this goal.
Following comprehensive and constructive discussions between Heat Pump KEYMARK, Bureau Controle en Registratie Gelijkwaardigheid (BCRG) and the Dutch Heat Pump Association (Vereniging Warmtepompen – formerly DHPA), it is now possible for Heat Pump KEYMARK-certified product manufacturers to use their valid KEYMARK Certificates as a solid reference to apply for compliance to mandatory testing conditions in the Netherlands according to NTA 8800 (the Dutch method for determining the Energy Performance of Buildings).
The Heat Pump KEYMARK certificate holders' main benefits when entering the Dutch market include:
· Reduction of time to market
· Reduction of testing and certification costs
For additional information or for guidance on how to use your Heat Pump KEYMARK certificates in the Dutch market, please contact us at secretariat@heatpumpkeymark.com
Heat Pump KEYMARK scheme is owned by CEN, the European Committee for Standardization and its secretariat is coordinated by EHPA. Heat Pump KEYMARK certificate is granted by independent Certification Bodies and the testing is carried out by registered Testing Laboratories. The scheme is now recognised in 10 European countries and counts over 6,000 certified models.